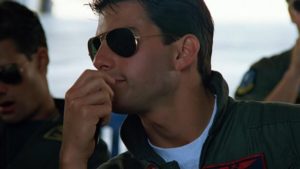 Design
The Pop-Culture Significance of Aviator Glasses
By
|
Everyone has a signature accessory. For some people, this might be a style of shoes or a type of bag, for others it is the aviator glasses. Few accessories have played a more significant role in pop-culture than the aviator sunglasses who link together everyone from Elvis Presley and Freddie Mercury to Joe Biden and General Douglas MacArthur. To give a brief overview of the pop-culture heritage of the aviator glasses, we've rounded up some of the most famous faces who had called the style their signature accessory.
Aviator glasses first appeared in popular culture during World War Two. The glasses had been specifically designed during the 1930s for US Air Force test-pilots to protect their eyes from UV rays while flying at high altitudes. Aviator glasses became a standard-issue within the U.S Navy and Air Force during World War Two, and the silver frames with black lenses became the signature style of General MacArthur. The aviator styles were immortalised for their military background in press photos of MacArthur in the Philippines in 1944 after US troops had arrived in the country. If you're in search of a pair of military-inspired aviator glasses, then we recommend Blikvision as an affordable, budget-friendly option with their curated collection of glasses.
During the 1970s the aviator glasses exploded in popularity thanks to their frequent appearance on the faces of some of the decade's most well-known musicians. Queen is one of the most successful British bands of all time, and their lead singer Freddie Mercury was rarely seen without a pair of aviator glasses. He famously wore aviator glasses with tinted coloured lenses during performances and they became as much a part of his signature look as his moustache. When Rami Malek took on the role of Freddie Mercury in the Oscar-winning 'Bohemian Rhapsody', Mercury's signature aviator glasses were rarely off the screen. Similarly, Elvis Presley, the King of Rock 'n' Roll was also frequently photographed wearing aviator glasses both as optical glasses and sunglasses. Presley's signature aviator glasses had gold frames and thicker legs than the traditional military aviators, with his 'EP initials crafted into the temple bars of the frames.
The summer of 1986 was marked by the release of Tom Cruise's breakout film, Top Gun, where he played the role of Pete 'Maverick' Mitchell, a test-pilot with a penchant for aviator glasses. Top Gun took the aviator glasses back to their military origins and the gold frames worn by Cruise throughout the film resulted in the sales of that particular style of ray-bans going up by over 40%. In the public consciousness, aviator glasses are often referred to as 'Top Gun' sunglasses due to the popularity of the film.
Fast forward to 2020 and aviator glasses are once again leaving their mark on pop-culture, this time in the field of politics. The aviator glasses have been a signature style for former Vice President Joe Biden for decades, and they've now taken centre stage during his Presidential campaign as his signature accessory. His Twitter bio even reflects his devotion to the sunglasses style with "loves ice cream, aviators and @amtrak".
Few other fashion accessory has the pop-cultural significance of the aviator glasses which have transcended between every genre of fashion and every part of society. Their rich heritage makes the aviator glasses a must-have accessory in every person's wardrobe.