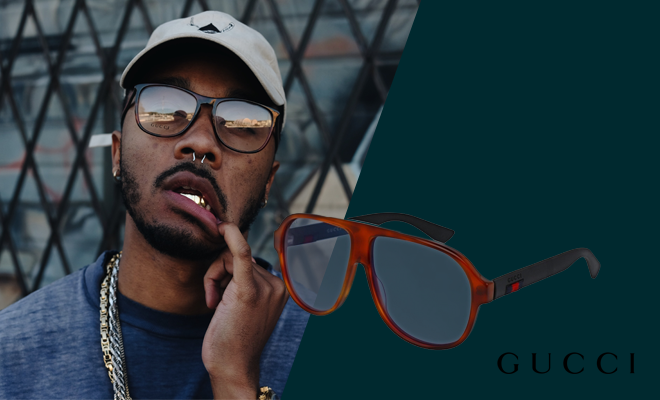 Trends
New Stocks Of Gucci Frames – Now In Stock At DesignerOptics!
By
|
New Stocks Of Gucci Frames – Now In Stock At DesignerOptics!
Hey, there, eyewear enthusiasts! Thanks for coming back to DesignerOptics once more! We're here with some great news. We've recently expanded our stock of Gucci frames – yet again! We've now got more than 600 pairs of Gucci brand glasses in stock.
We've got a huge selection of frames built for both men and women, including sunglasses, eyeglasses, clip-ons, and more – all with deep discounts. If you're a Gucci fan, you won't be disappointed. We've got the best stock at the best prices – that's a guarantee!
So start shopping now, and find your next favorite pair of luxury frames – or keep reading to learn a bit more about Gucci, and learn more about the glasses we've stocked!
Gucci – A Leader In Luxury For Nearly A Century
Gucci is one of the oldest high-fashion houses in the world. Founded in 1921 by Guccio Gucci, the company has become synonymous with luxury leather goods, handbags, and eyewear. As the largest-selling Italian brand, Gucci has become one of the top choices for luxury sunglasses, eyeglasses, and more.
Headquartered in Florence, Italy, Gucci maintains the tradition of excellence and quality that made the company such as success way back in the 1920s. Okay – enough history! Let's take a look at some of the new frames that we've got in stock at DesignerOptics!
Hundreds Of Gucci Frames At The Lowest Prices
If we don't have the largest stock of Gucci frames in America, we don't know who does! Check out some of the newest additions to our inventory now.
Gucci GUC Urban GG0003S Sunglasses – These Gucci sunglasses have been built a traditional, trapezoidal "Wayfarer" style first popularized by Ray-Ban. Featuring Gucci branding and the iconic green-and-red striped Gucci colorway on the side, they're beautiful – and quite affordable compared to many other Gucci frames!
Gucci GUC Urban GG0009S Sunglasses – These sunglasses have been built with an oversized frame, designed to hearken back to the halcyon days of the 70s and 80s. With an acetate tortoiseshell frame and high-quality, blue glass lenses, these sunglasses offer a unique vintage flair.
Gucci GUC Sensual Romantic GG0018OA Eyeglasses – Gucci isn't just about sunglasses, and these eyeglasses are proof of that. Crafted with a rounded rectangular frame, a beautiful tortoiseshell-inspired pattern, and a thin design that's subtle and luxurious, these eyeglasses are the latest addition to Gucci's tradition of beautiful yet functional eyewear.
Interested in a new set of frames? We thought so! Shop now – and take advantage of our special offers, discounts, and everyday low prices to get Gucci for less! Thanks for reading, and thanks for shopping with DesignerOptics!