People
3 Ways Versace Changed Fashion
By
|
In many ways, the House of Versace has always been ahead of it's time. From incorporating legendary Supermodels into runway shows to building an empire of nearly a billion dollars in under 10 years, (which is still impressive by today's standards) Versace has been one step ahead at every turn.
That credit is largely due to mastermind Gianni Versace himself. Gianni understood the power of celebrity well before the rest of the world caught on. An innovator in fashion and business, he was able to promote not only his own brand, but the careers of countless actors, musicians and models.
---
The Golden Age of the Supermodel
The early 90's was the peak of the Supermodel era. For the first time, you didn't need to be in fashion to know who was who. These glamorous women were now household names and appeared everywhere including TV commercials, talk shows and given the dawn of MTV – music videos.  
Interestingly enough, the one place Supermodels were not found was the runway.
Not surprisingly, Versace saw the opportunity to blaze another trail and became the first designer to use the star power of Supermodels in his runway shows and keep his brand consistent by using the same models who appeared in his ads.
In the Fall of 1991 during his Ready-To-Wear show, Versace took it one step further when he brought one of the most classic music videos of all time to life. Four of the original "Big Five" Supermodels, strutted down the runway singing along to George Michael's Freedom '90, to end the most epic runway show in fashion history.
Versace's powerful trifecta of music, fashion and celebrity is one of the industry's most cherished moments.
---
"THAT Dress"
In 1994, a virtually unknown Elizabeth Hurley was attending the premiere of Four Weddings and Funeral with then boy-toy Hugh Grant, but she had nothing suitable to wear. Versace did the girl a favor and offered her the last dress in the press room. They had nothing left in evening wear and Hurley was given a deeply lowcut black dress held together with gold safety pins, from the Ready To Wear collection. You may know it as THAT Dress, what is now considered the most iconic dress of all time. The press jumped on the "neo-punk" style, and the rest of the world marveled at the breezy fierceness Hurley exuded while rocking the dress.
And to all the haters that thought the dress was a tad too scandalous, Hurley famously said
"Unlike many other designers, Versace designs clothes to celebrate the female form rather than eliminate it."
This moment of generosity elevated the career of Elizabeth Hurley from model / Hugh Grant's girlfirend to future Ms Kensington and propelled the Versace brand to legendary status.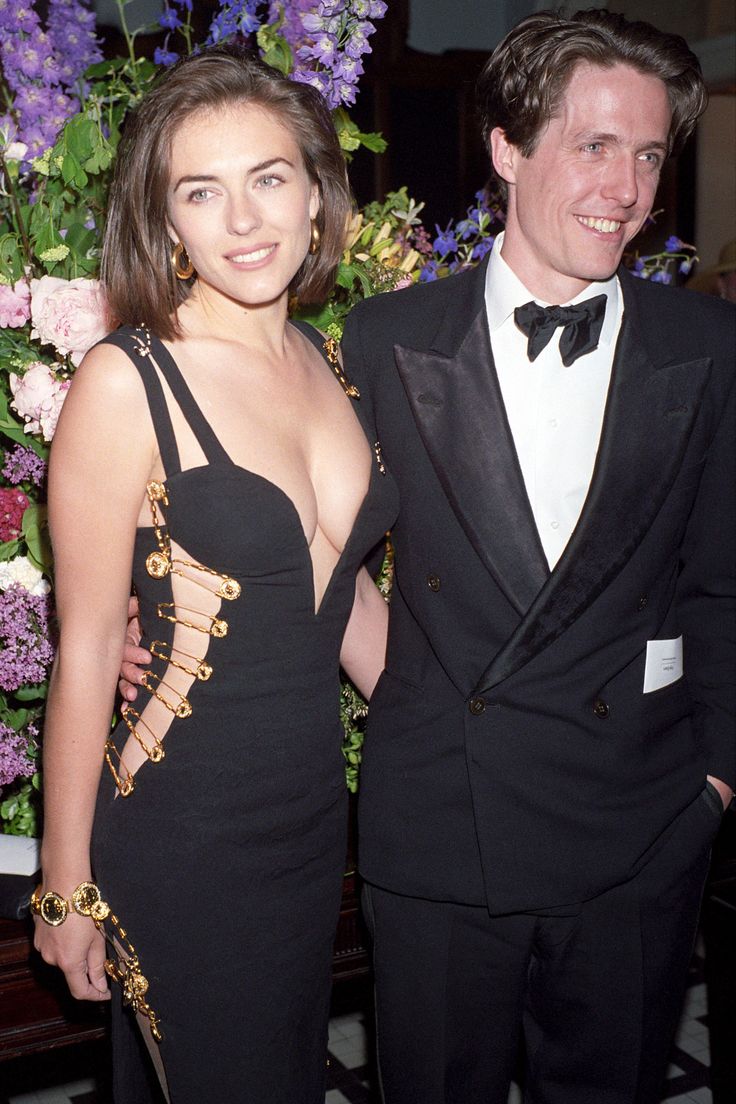 ---
A Hip Hop Legacy
Versace continued to showcase his brand through music and no genre loved him more than hip hop. Biggie Smalls, known for indulging in the finer things, rapped about the brand routinely and you would be hard pressed to find a music video or concert where he was not rocking Versace threads.
In One More Chance he infamously rapped about Versace while sporting the classic Big Medusa shades. In Hypnotize, he rapped "Miami D.C. prefer Versace" while driving a speedboat, silk Versace shirt flying in the wind.
Misa Hylton, President of Misa Hylton Fashion Academy credits Versace with influencing Hip Hop's transition from a musical genre to a culture within itself.
"The edginess, the over-the-top creativity and bad-ass factor is what made Versace so attractive to artists"
In typical 90's Hip Hop fashion, the East coast and West coast even battled over Versace. In Hit Em Up, Tupac rapped "now it's all about Versace, you copied my style" and Biggie took it as a slap at him. It's hard to say who wore it first (or wore it better), but it's not surprising that everyone wanted a part of Versace in their own legacies.