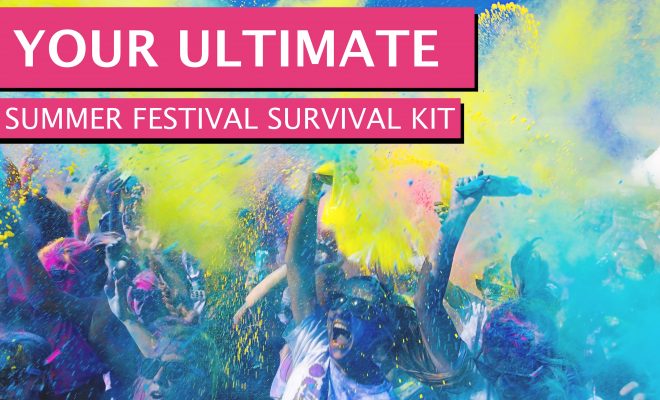 People
Your Ultimate Summer Festival Survival Kit
By
|
Whether it's your first festival or you're a seasoned diehard, this guide will help you pack the essentials you need to party long and hard, for one to three straight days.
While fashion is a huge part of any festival, it's integral to wear comfortable clothing and shoes. You will be carrying a bag. You will be walking. You will be dancing. You need to wear something that you know you'll still feel good in 12 hours later.
There will be rain. Even if there's no rain, there will be mud. Things can get so messy, you may as well think of most items in your bag as disposable. Don't bring anything expensive or items you can't part with.
If you just love that shirt so much, leave it at home. Whether it's lost, stolen or damaged, it just makes things easier when you have no real attachment to what you're bringing. Aside from your phone, money and other valuables, (which should be kept with you at all times) be prepared to lose everything.
Here's our practical guide to building the perfect kit for surviving the Summer Festival
---
The Ultimate Festival Survival Kit
---
1 | Hand Sanitizer
The number one necessity for any festival is hand sanitizer. This one item can be MacGyvered to save any situation, not just your sanity after using the port-o-potty.
Hand sanitizer can be used to clean the yuck off your glasses, stops mosquito bite itches, disinfect minor wounds and can even be used as emergency deodorant!
---
2 | Toilet Paper
This one is obvious, but you can never trust the toilet paper supply at a festival. Unless you've bought a VIP pass with access to bathrooms with human-friendly conditions, you need to carry extra toilet paper with you at all times.
---
3 | Find My Friends App
You will lose your friends. It's inevitable. And while you will still have a blast meeting random trumpet playing, hula hooping, mascot wearing festival-goers, you will probably want to find your friends eventually. Plan with your friends in advance so you can download the right app for your group. The original Find My Friends App is made for iPhone, and Google has one for Android but you can't cross between brands. For groups with a mix of different phones, you can find other apps like Life360 that will connect everyone.
---
4 | Portable Phone Charger
Ok your phone dies. It's not the end of the world right? Savor the experience! Be in the moment!
But then your favorite band gets on stage and you wish you had just one shot left. Or you've lost your friends, rendering your trusty app useless. Get a portable phone charger that will get you back online at least one full service. It's also a great way to leave the camera at home and reply on your phone for photos or video.
---
5 | Flashlight
A necessity for the trek back to your tent, late night hunting for Port-o-Pottys, or finding the friends you've lost and tracked to the woods behind the campground. This will also help save that precious phone battery, by not using the built in flashlight.
---
6 | Sunscreen
There are two very good reasons to coat yourself in sunblock. Of course no-one wants to wake up Saturday morning feeling lightly boiled, spending the rest of the weekend looking for a tree with good shade. Sunstroke is another factor and can be quite serious. After a day in the hot sun, with limited water and a lot of exertion, you can end up feeling like you have the flu. So slather yourself first thing and reapply, reapply, reapply!
---
7 | Snacks & Water
The rules vary by festival but generally you will be allowed to bring a water bottle to filling at the water stations, as long as it's not glass or metal. Make sure you bring a sturdy, plastic bottle so you don't dehydrate waiting in a long line for a bottle of Evian.
Depending on the festival, you may be allowed to bring your own food in. This is a huge perk you need to take advantage of. The festival food will be overpriced and the selection will likely be heavier foods like burgers and fries, which will weigh you down. Bring along light, easy to eat snacks like nuts, dried fruit or oatmeal cookies. These snacks will give you the energy to last all night on the dancefloor and when you're crashing you'll always have a handful of those emergency almonds.
---
8 | Sneakers
Festivals are a great place to make a fashion statement, but the fun stops about 5 minutes after walking through the gate. You will be muddy, you will be sweaty and you will be walking, a lot.
Put down the flip flops and oh my god, put down the heels. Wear old comfy sneakers that you won't mind throwing out after the weekend.
---
9 | Backpack
You know you'll be bringing extra stuff so you may as well be comfortable when lugging it around. Keep it down to the essentials (like extra socks and a sweatshirt), and pack as light as possible since you will be walking, a lot.
Keep your valuables like your money, phone and ID in your pocket or a fanny pack so you know their whereabouts at all times.
---
10 | Sunglasses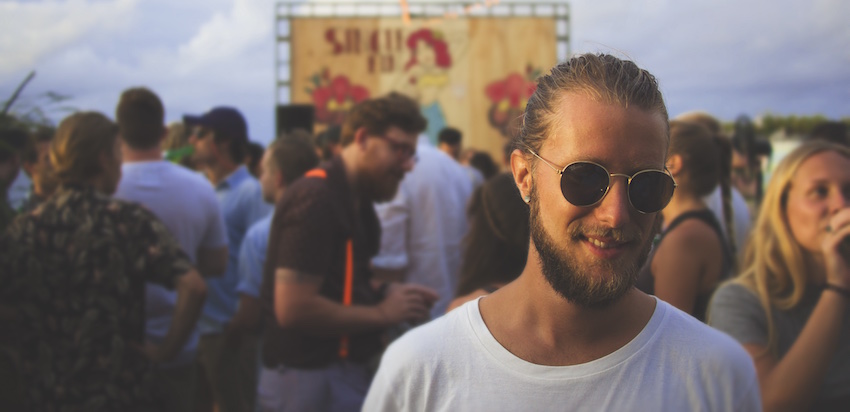 Last but definitely not least, sunglasses are a must. They will keep you from squinting which can lead to a headache and protect your eyes from the sun. They are also a great way to show off your festival fashion sense while maintaining your comfortability.
---
The festival life lessons to take away are stay comfortable, pack light but efficiently and don't forget the hand sanitizer!