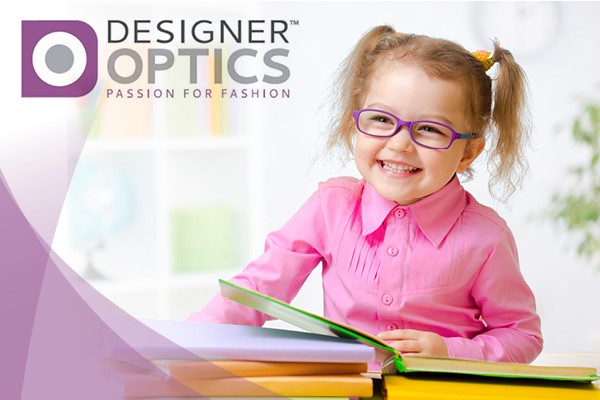 Trends
10 Tips for Choosing the Right Designer Frames For Your Child
By
|
Finding out that your child needs corrective lenses is not easy for a parent, who needs to understand that this news is likely even harder on the child. Children by nature like to fit in with their peers, and walking into class wearing eyeglasses does not fit their objective. To start, make sure your child's new glasses look great and fit right by following these tips:
The top of the frame should not sit above line of the child's eyebrow for the best fit.
Ensure that the lower portion of the frames is not sitting on top of your child's cheeks. Have them go through different facial expressions like smiling to make sure the fit is consistent.
Check to ensure that the glasses do not slide down or fall off with natural head movements.
If your child plays sports or is exceptionally active, consider polycarbonate lenses which are resistant to breaking and scratching.
Narrow frames will give the impression that your child's eyes are too close together. They should also not be extend past the temples.
Dark natural colors like deep browns and greens will enhance lighter eyes and make them standout despite the lenses.
Darker eyes are emphasized by navy blue and purple toned frames.
A thin or clear bridge on the glasses adds width to eyes that are close together, while you will want a colored bridge if your child's eyes are set wide apart.
Square, triangular and oval shaped faces are complemented best with wide frames in dramatic designer styles.
Don't buy the glasses and then forget about your child's eyes. With growing kids, prescriptions may change continually. To ensure your child's eyesight is always close to perfect, schedule yearly exams with the eye doctor.
Make sure that your child is an active participant in choosing the frames they like. Make suggestions that will best suit their face, and give them plenty of options to choose between. While you should discourage glasses that are not complementary to them at all, you should also not allow your personal preferences to interfere with your kids personal sense of style. Wearing glasses that they  helped choose adds a boost of confidence they will need when putting them on in public for the first time.
To help in avoiding resistance to wearing glasses, especially to school, encourage your child with words about how great they look. Speak to them honestly about how to deal with other kids who try and put them down for having to wear glasses. Older kids are just as impressed with designer labels as adults are, so go ahead and let your child brag about wearing Tommy Hilfiger if they are being teased at school.
This is a big change for your child that should be treated as a special event. If you are positive during the experience your kid will pick up on that and have positive feelings too. Outfitting a child with new eyeglasses is one of those times when a parent has to put their own feelings aside and focus on making sure their child feels good about themselves.