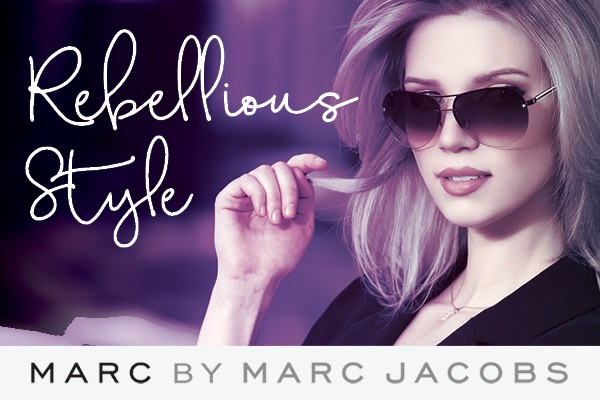 News
Marc Jacobs Heats Up the Summer With a New Line of Sizzling Shades and a Look at His Bum
By
|
Marc by Marc Jacobs has always had a knack for the daringly different when it comes to their eye glass collections, and their latest shades are no exception.
It Should Come as No Surprise
The man behind the brand – Marc Jacobs – grew up on the Upper West Side of New York's Manhattan, where he attended the High School of Art and Design before finishing his studies at the Parsons School of Design. During that time he worked for an avant-garde boutique in the city, which only furthered his flair for bringing past fashion forward to the present.
After forming his own label while still in his twenties, Jacobs went on to become the youngest designer to ever be awarded fashion's highest honor – The Perry Ellis Award for "New Fashion Talent". The next year he was given the title of president for the Perry Ellis women's design department. It was by stepping out of the box to create a grunge collection that led to Jacob's dismissal from that position in 1992.
Marc by Marc Jacobs was introduced in 2001, and epitomizes the fearless attitude of the designer. Taking risks with color schemes, patterns, and fabrics, this brand has always stood out for being a bit rebellious, much like singer Miley Cyrus who was the model used in their 2014 summer collection.
2015 Shades from Marc by Marc Jacobs
Bold hues and geometric designs are the stand-out features for the latest sunglasses from Marc by Marc Jacobs. Color schemes include pale pink paired with bright yellow, robust amber and sage green, and basic black fused with a vibrant shade of blue. Squared frames with round lenses will make you do a quick double take before realizing just how appealing the contrast is.
This vintage inspired collection provides something refreshingly new in sunglasses that only the fearless Marc Jacobs dares to offer.
The Latest News for Marc Jacobs
Sadly it is being reported that the hipper Marc by Marc Jacobs collection will be ceased, and become folded into their more mainstream and upscale Marc Jacobs label. Hopefully the streetwise styles will still persevere as the brand promises that the merger only means that the one label will become more versatile and cover various styles and price points.
Other Marc Jacobs news just goes to show how he is just as upfront and brazen as his new sunglass collection is. After days of social media speculation as to just whose bare behind was posted on his Instagram account, Jacobs copped to being the culprit. Although he did apologize for the mishap, and had taken it down almost immediately after it was posted, he also admitted that it was intended to be a part of a private message. After posting "I'm a gay man. I flirt and chat with guys online sometimes. Big Deal!" to his Instagram account, it's clear that Jacobs sees the oops for what it was – an honest mistake that anyone could have made.
Unleash your inner Jacobs by treating your eyes to a summer shade that lights up brighter than the sun. This new sunglass collection from Marc by Marc Jacobs encompasses all the elements of the brands rebellious style.