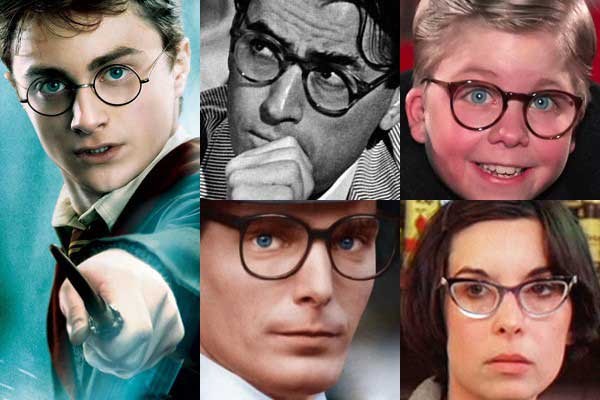 People
5 Iconic Moments in Movies When Eyewear Made the Character
By
|
Costumes, scenery and props are all essential components to telling a story on screen that typically we don't pay much attention to. Yet subtle items, like fashion eyewear, are used to push the plot forward and help us relate to the characters wearing them.
Harry Potter
What's a young wizard to do without his glasses? While those who think too much may wonder why there is no spell to correct Harry's vision, fans were impressed by the incredible number of times Harry's perfectly round specs could be broken in battle and then magically fixed before the next one. From a fashion stand point, the wire frames and round lenses were the perfect choice to bring out Harry's innate wisdom.
Clark Kent – Superman
There is a moment in the original Superman from 1978, where Clark Kent is debating whether he should tell Lois Lane the truth about his alter ego. To symbolize the difference between the personas, Clark stands up tall and takes off his black rimmed glasses. He stands tall and confident without them on, but shrinks right back down to his "normal" self when Lois enters and he puts them back on. Clark's glasses were large and dark, hiding the character's deepest secret.
Ralph "Ralphie" Parker – A Christmas Story
If you have seen the holiday classic "A Christmas Story" then you know that eyewear was a running theme throughout the movie. First there is the epic fight scene where the bullies break Ralphie's glasses. Yet that is nothing compared to the rifle shot, and the falling icicle which breaks yet another pair. Ralphie's glasses were true typical eyewear of the 1950's, when more emphasis was placed on function than fashion.
Atticus Finch – To Kill a Mockingbird
Another example of when glasses make the character is in "To Kill a Mockingbird" and Atticus Finch. He fiddles with his glasses often throughout the entire film, mostly when he is getting ready to impart words of wisdom onto his children. Yet the scene viewers will never forget is when the normally peace loving father is called upon to kill a rabid dog making its way down the street. After pushing his eyeglasses onto his forehead a number of times, only to have them slip back down, he throws them to the ground, points the rifle and makes the shot. Then Atticus calmly bends down, picks them back up and places them on his nose where they belong. His clear eyeglasses represent the clear head of a lawyer, a trait seen in Atticus throughout the entire movie.
Adrienne Pennino – Rocky
Before becoming Mrs. Balboa, "Rocky's" Adrienne was a frump in cats eyes frames. On their first official date, the boxer asks the pet shop worker to take her glasses off to get a better look. She obliges, he is awestruck and the rest is movie sequel history. Right from her first scene, you know Adrienne's spinster status from her choice in glasses, and how ready she is to shed that when she takes them off for Rocky.
Your choice in fashion eyewear does tell a lot about your personality and sense of style. Take a cue from these movie characters, and pick a pair that exemplifies your best traits.
BY: Designberoptics.com