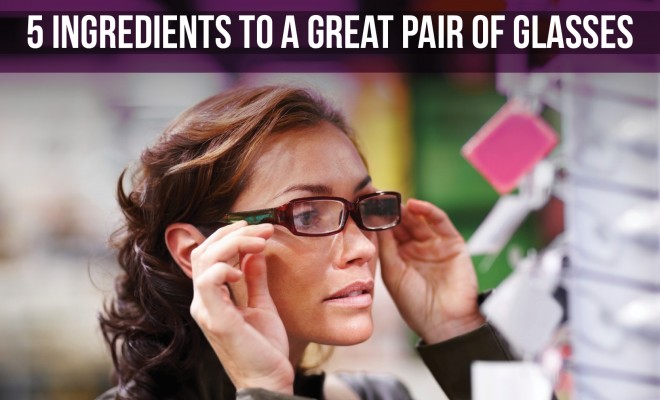 Posts
5 Ingredients for a Great Pair of Glasses
By
|
5 Ingredients for a Great Pair of Glasses
Selecting the right prescription eyeglasses is an opportunity for you to establish your personal style and create part of the "look" that is you.
With the thousands and thousands of choices in eyewear, it can be hard to know what you should look for in a pair of quality prescription eyeglasses or sunglasses.
Here are five ingredients to help you make your decision.
Style
If you are looking for eyewear that naturally seems to be part of your face, consider rimless or semi-rimless frames. These frames open the face, and there is no distinctive edging around your eyes. Think of these as infinity frames; it can be hard to see where the glass begins and ends.
On the other hand, if you are looking for a statement accessory, go with rimmed eyeglasses. A cat eye frame will create a feminine look, and squared or trapezoidal frames are more masculine. Details on temporal corners and arms may provide a dash of flair to augment your look.
Shape
Selecting the right shape can be an important decision, especially if you want to flatter your face. Conventional advice suggests that you pick out a frame shape opposite of your face shape. For example, if your face is round, try rectangular frames.
You can, however, go against convention, and create a unique look for yourself by wearing frames that have the same shape as your face.
The best thing to do is experiment with several frames shapes to see which you prefer.
Proportion
You'll want your eyeglasses to strike the right balance. Frames that are oversized may create a comical effect; frames that are too small may do the same thing.
The wrong sized frames will do one of two things. They will either slide from your face, or your glasses will hug your face too tightly, giving you a headache.
Many designers offer their frames in several different sizes so you can get the proportion right for your face.
Fit
The right fit is equally important. The temporal arms should be long enough to reach comfortably behind the ears without pulling the frames into your eyelashes of hurting the ear. In addition, check the fit across the face.
Broader faces may require an alternative fit for better comfort. This fit will give you frames that are flatter in the front and have temporal arms that arc away from the cheekbone rather than lie flat against it.
Lifestyle
Consider getting durable frame material such as nyl if you are hard on your frames. Likewise spring hinges at the temporal corner will retain the fit for your face longer than eyeglasses without spring hinges.
Are you a runner? You may find that glasses with nosepads are less likely to slip when you get sweaty than those without.
If you take into consideration style, shape, proportion, fit and your lifestyle when picking out your glasses, you are sure to find the right pair for your needs.