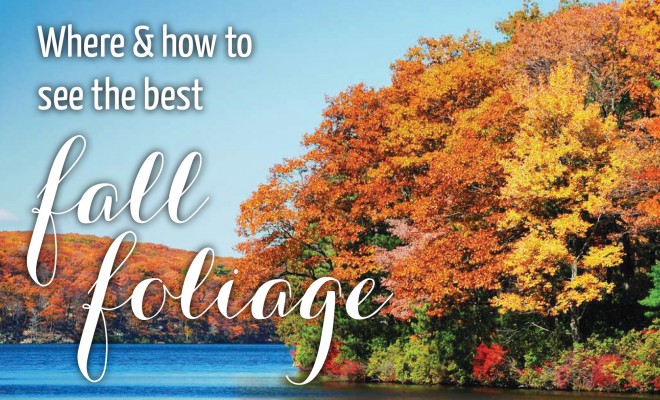 Posts
Where and How to See the Best Fall Foliage
By
|
Where and How to See the Best Fall Foliage
Is your trip planned already?
You know, the fall trip where you check out nature's warmest color palette – the golds, oranges, reds and browns that say fall has arrived.
In the northeast, you might consider visiting northern Vermont, especially the Green Mountain Byway, for richly colored trees that will make you feel as though you are standing in the middle of an Andrew Wyeth painting. You'll see a variety of scenery forested by maples and birches primed for fall foliage viewing.
North Carolina will offer you stunning foliage colors around Mt. Mitchell, which, as the highest elevation point on the east side of the Mississippi River, offers panoramic view that will inspire you. You'll see equally beautiful colors along the Blue Ridge Parkway as you travel to and from this elevation point.
Then there's the Lake Superior Circle Route. Check out the Michigan Upper Peninsula and make the circle around Lake Superior by driving across Wisconsin, Minnesota and Ontario for breathtaking views of pristine beauty and unparalleled colors in fall foliage.
If the Pacific coast is more appealing to you, make sure that the Columbia River Gorge in Oregon is on your fall itinerary. You can enjoy the changing gold, bronze and copper leaves from the land if hiking is your thing or by water if you kayak. Exquisite falls and the meandering Columbia River provide an incredible contrast to the fall colors.
Even though the days are getting shorter, you'll still want to protect your eyes from the sun – without diminishing or altering the colors you traveled to see. Consider which sunglasses you'll take for not only optimum foliage viewing but also driving conditions and any other activities you might participate in.
Gray lenses are the least likely to distort the colors of the trees' leaves, and they will help to reduce eye strain if you are driving for long periods of times. Green is the next best choice.
If you are headed to Oregon or Lake Superior, amber lenses may be what you need; although there is some color distortion, you will appreciate the sharp distinction between the land and water.  Yellow lenses may give you the best clarity overall, and they are superior for dim light, but they cause the greatest color distortion because they filter out blue light.
You may find it too early to wear blue lenses unless there is a considerable amount of haze; blue is good for snow conditions.
With so many eyewear options from which to choose, you may discover that you, like so many other aficionados of sunglasses, will benefit from several different styles of eyewear protection. That may mean you'll have to check out all of these recommended fall foliage locations.
It's time to head out – the best foliage is seen mid-September to early October.