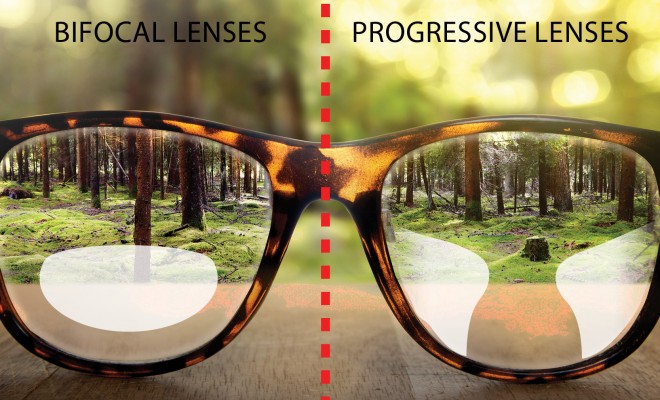 Stories
Are Bifocal, Trifocal or Progressive Lenses Right for You?
By
|
Are Bifocal, Trifocal or Progressive Lenses Right for You?
Have you been practicing your trombone playing lately? Are you extending your arm and pulling it towards you, back and forth, until you find a comfortable distance at which you can read print?
You may have presbyopia, or blurred vision.
Presbyopia is most common in people between the ages of forty and sixty-five. It means that your eyes are aging. The natural lens inside your eye is beginning to harden, and this aging process makes focusing more difficult. Couple this with weakening eye muscles, and your vision may need a little help in the form of bifocals, trifocals or progressive lenses.
Bifocal Lenses
If you have astigmatism, myopia, hyperopia or any combination of the three, you may need bifocals.
Bifocals have two optical powers. There are convex lenses set in the bottom of the larger lenses; these convex lenses are for viewing items up close, and they are the optical choice for reading. The rest of the lens may have a different optical power.
Ben Franklin is credited with invented (and wearing) the first bifocals.
Trifocal Lenses
If your presbyopia is more advanced, you may be prescribed trifocals. For example, if your recommended diopter, or optical power, is a large number, you may find yourself in trifocals.
Trifocals work in similar fashion to the bifocals, with the exception that there is a third region located just above the bifocal piece in the lens area.
If you wear trifocals, you may find that your eyes are always trying to focus in one of the three regions of your lenses. Sometimes, wearers developed headaches from using these glasses. As a result, the use of trifocals has given way to progressive lenses.
Progressive Lenses
These are no-line bifocals or trifocals. They are called progressive because each area of the lenses fades into the next without a line marking the area. You may also hear these eyeglasses called "multifocal" lenses.
Your eye experiences a seamless sweep from area to area in the lens; there is not distracting line that causes your eye to temporarily look at. Instead, you can read a menu, look up at the waiter or across the restaurant, and see everything clearly and seamlessly.
There are great frames available to hold the optical lenses you need for accurate vision, and you will find eyeglasses for daily wear and sun wear. Many frames today are more lightweight than ever, and designers have made sure their frames are about much more than function; your new frames are really a an accessory for the face.
Get the right lenses, and you won't have to ask others to hold your reading material far enough away from you so you can see it. Your new optical eyewear can have you back in control of your vision.