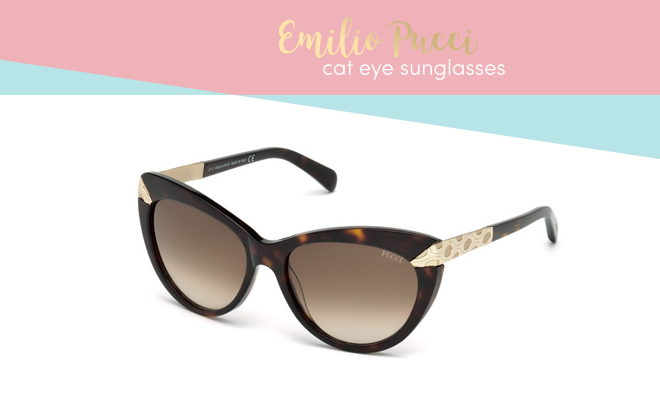 Trends
Emilio Pucci Cat Eye Sunglasses to Make Them Swoon
By
|
Emilio Pucci Cat Eye Sunglasses to Make Them Swoon
The cat eye sunglasses are making a comeback, and they are as popular as ever.
The retro look of the 1950s and 1960s was defined by an iconic style of sunglasses that made every woman who wore them look like a Hollywood star. They captivated the fashion scene, and they also captivated the attention everyone around them.
Their playful look comes from the adorable and playful kittens after which the cat eye frames are fashioned. Each corner of the frame reaches to the outside of the frame, mimicking the exotic darker colors around feline eyes.
Women with heart-shaped or square faces tend to look fabulous in cat eye frames, but you'll see these sunglasses on all shapes of faces because they are fun to wear.
Cat eye frames are a flirtatious imitation of a favorite pet, and these sunnies are super sexy accessories that can make anyone swoon.
You'll find Emilio Pucci cat eye sunglasses to be among the best in style and design, and they are a good choice when you're wanting to create a sultry look in sunshades.
The EMILIO PUCCI EP 0017 Cat Eye Sunglasses 52F in dark havana feature rich roasted coffee brown acetate frames accented at the temporal corners with luxurious gold finishes. These stunningly sexy frames, with their gradient brown lenses, mark you as a woman of distinction and position you in the fashion forefront.
Best of all theses Emilio Pucci cat eye sunglasses come in a cerulean blue frame, a passionate red and a glamorous black.
Once you start looking at all the Emilio Pucci cat eye sunglasses available to you, you'll discover that these sunnies are some of the most expertly designed frames anywhere. The Emilio Pucci team combines hand rolled acetate frames with exceptional metalwork for a style that is as unique is it is pleasing to look at and wear.
Emilio Pucci cate eyeglasses feature definitive brow lines, bold and dramatic curves, and bright colors that say, "Come play with me."
You'll love the comfort of these designer cat eyes, too, because they have standard nose pads, which many women find to incredibly comfortable and practical as well. Adjustable nose pads sometimes will snag on jewelry, clothing or even hair.
Go ahead and embrace your inner kitten and don your Emilio Pucci cat eye sunglasses.
So who wears retro cat eye glasses, really? You do, and you're going to make everyone swoon when they see you.