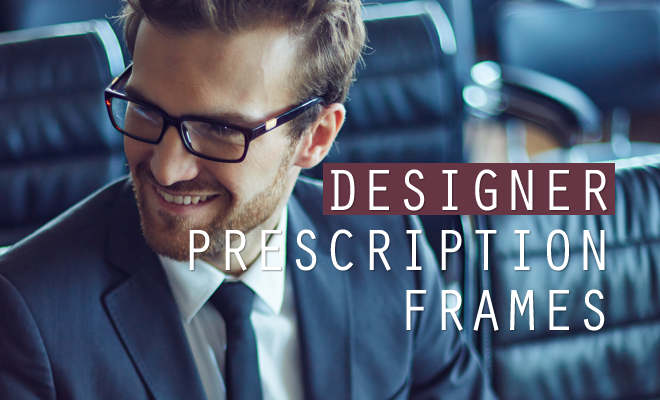 Trends
Why You Should Resolve to Get Designer Prescription Eyeglasses Frames
By
|
Why You Should Resolve to Get Designer Prescription Eyeglasses Frames
This is the year you have to upgrade your optical prescription, or maybe you just want something new in your frames. You've been thinking about making the commitment to go with designer prescription eyeglasses frames. Does it really matter, you ask? After all, they're just glasses.
The answer is a resounding YES!
Sure you can pick up a cheap pair of prescription frames, and they'll last for a while. After a few short months of use, however, you'll find that the integrity of your optical eyewear frames have been compromised. It happens in little ways at first, and then the problems become more pervasive.
Acetates and metals
Select designer prescription eyeglasses frames and you get high quality plastic or acetate that is saturated with color. Far too often the cheaper frames are clear plastic that has been dipped in a film of color. This skin sticks to the frame nicely at first but eventually will begin to peel off the frame, leaving you with an entirely different looking set of eyeglasses.
The plastic is also a more inferior grade, and as a result, you'll discover that you won't have the strength and flexibility you need in your everyday eyewear.
Your Designer prescription eyeglasses frames in metal will be solid aluminum, stainless, or ruthenium. You don't have to worry the the finish will wear off, leaving you with darks bits of metal that show through the frames.
Authentic designer eyewear will also have lighter weight metal frames, and that means all day comfort when you must wear your prescription eyewear to see.
The loose screw
If you purchased Designer prescription eyeglasses frames, you'll still want to periodically check the screws and hinges of your glasses to make sure everything is snug.
You'll try to do that with cheaper non-designer glasses, too, but there is one big difference. Designer glasses can easily be readjusted, but the cheaper frames often cannot be adjusted. When they fail, they fail, and you'll have to purchase a new pair of glasses.
Designs you will love and wear
The greatest benefit of wearing designer prescription eyeglasses is that you'll get real style you love. Are classic lines and sporty elegance your thing? You can explore the Ralph Lauren line to find the glasses that match your lifestyle. Rockstar style that is fashion forward comes from Versace, and traditional frames that appeal to a sense of sophistication come from Burberry.
Wearing designer prescription eyeglasses is about finding the lifestyle trends that fit you best and wearing styles from designers you love. You'll also get fantastic quality that can't be beat.