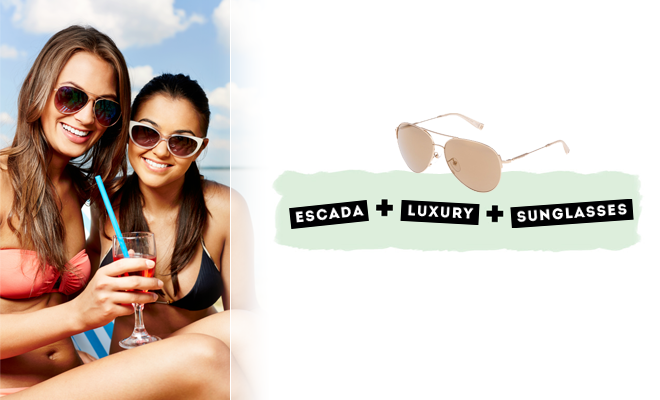 Posts
Escape to These Summer Destinations with Sexy Escada Luxury Sunglasses
By
|
It's not too late to book that summer vacay you've been wanting to take.
You can take advantage of some great trips that will have you chilling in your shades in no time. Whether you like adventure vacations that make your adrenaline surge or you want a chance to catch up on some down time, there's a respite for everyone.
When you go, be sure to take your Escada luxury sunglasses with you. One of the worst place to buy the sunglasses you want to be seen in is at the gift shop, and it doesn't matter if that shop is in the hotel or on the ship. You'll likely pay more for a brand you might know.
Here's what to take to your favorite get-away destination.
The beach
Manele Bay in Hawaii is a popular destination for many vacations, but if you can't make it that far, try something closer like Myrtle Beach, South Carolina. You'll enjoy pristine sands along the beachfront, and there's a boardwalk for evening entertainment.
Your Escada luxury sunglasses of choice? The Escada 392 Sunglasses in red, of course. These sunglasses are big and bold beachwear.
The cruise
You really don't have to plan your cruise six months or more in advance. You can find some of the best deals for summer now by checking last minute deals with various cruise lines. These ships want to fill up their rooms as badly as you want to get away. The result is a win-win situation for you both. The ship sails with a full passenger list and you take advantage of some spectacular savings.
You'll look wonderful on the ship's deck in your Escada 403 Sunglasses; the cat eye frames are exquisite.
The canyon
The Grand Canyon, that is. This natural attraction draws visitors year round, but it's a great summer destination as well.
Be sure to select your activities based on which side and which rim you'll be visiting. Although you can choose from rafting, mule riding, helicopter and airplane tours, or spectacular observation decks, not every activity is available in each section, so plan ahead.
More than four and a half million tourists a year visit the Grand Canyon, but there's still plenty of room for you and your family. At least you'll stand out in your pilot-style Escada 860 Luxury Sunglasses.
The lake
Head out to the deepest lake in the United States, Crater Lake in Oregon, or select Cumberland Lake in Kentucky for a little houseboating, or try Lake Tahoe, located between California and Nevada. Then make your way down to Las Vegas for some nightlife.
Every state has popular lakes for fishing, swimming and boating. You'll still be the sexiest person out there in your Escada 310s.
Grab your Escada Luxury sunglasses and get your vacation booked before you run out of summertime.