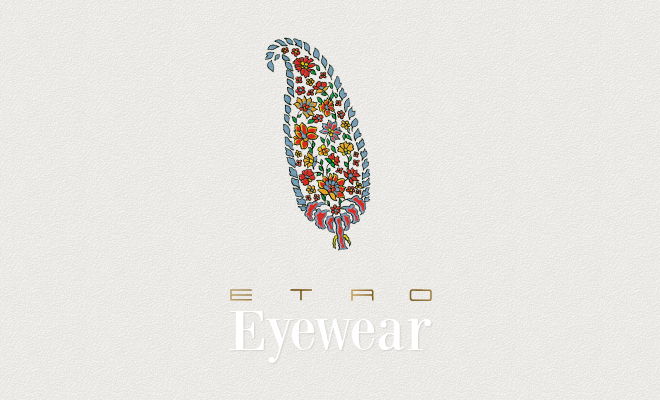 Posts
The Natural World of Paisley Etro Eyewear
By
|
The Natural World of Paisley Etro Eyewear
You can tell that the Etro design house loves two things very much: fashion and print patterns. As an analogy, Etro is to unique pattern application what sunglasses are to a bright and sunny day.
Sure, you could get along without fun patterns and your sunglasses, by why on earth would you want to?
Well-thought out patterns can create interest and add personality to not only the clothes you wear, but also your accessories, like eyeglasses and sunglasses. Paisley Etro eyewear is one of the more unique patterns available in designer eyewear, and it sets a standard of its own.
Paisley itself is a thousands of years old organic pattern based on the shape of leaves; the names comes from a town in Scotland known for making wool shawls with the same name. The more elaborate paisley patterns have been embellished with intricate detailing worthy of royalty.
You don't have to be royalty to enjoy Paisley Etro eyewear. With a diverse selection of luxury designer eyewear available in eyeglasses and sunglasses, you'll have plenty of choices when it comes to picking out eyewear unique enough to wear as your personal look.
Paisley Etro eyewear gives you a rainbow of colors for your frames, but being by taking a look at the Etro ET2605 Eyeglasses 021 in grey paisley. These square frames with rounded corners bring a professional look to any wear, but the paisley print on the front of the frames makes the eyeglasses less severe looking than a pair of optical eyewear in solid grey or black.
The paisley is feminine, soft and exotic looking, with just enough detail to be interesting.
Paisley Etro eyewear offers equally stunning sunglasses. In this eyewear, the paisley print on the temporal arms adds the kind of detail that is not only interesting, but also unique. The Etro606S sunglasses in brown feature camel colored arms drenched with chocolate colored lines of paisley.
Not all of the Etro eyewear is based on neutral tones like brown and grey, but they are among some of the most popular colors because they coordinate so well with your clothing choices.You'll also find blues, reds and plums for a decadent eyewear look.
Etro eyewear offers more than paisley prints on their eyeglasses and sunglasses. You'll also find another pattern — the gorgeous ombre variations of color that will spice up your look with fantastic design and style.
Go ahead and treat yourself to a pair of Paisley Etro eyewear; you may just feel like royalty. There's no doubt you'll look like it