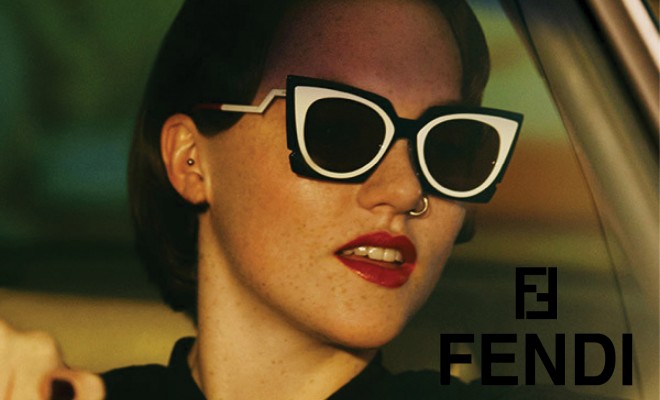 Stories
Fashion Forward Fendi – A Look at the History Behind the Popular Eyewear Brand
By
|
Fashion Forward Fendi – A Look at the History Behind the Popular Eyewear Brand
Since 1925, Fendi has been a name instantly associated with high class refinement. This Italian design house is renowned for its high quality furs, leathers,  ready to wear garments, and of course eyeglasses and sunglasses. If you are looking for an eye look that shows sophistication and class, look no further than Fendi.
Newlyweds Edoardo and Adele Fendi started the business as a small fur and leather shop in Rome. The shop was widely popular and known for their high quality and meticulously designed bags and furs. This led to their expansion to a larger shop in Veneto, allowing them to delve into other product lines. Renowned fashion designer Karl Lagerfeld was brought on board in 1965 and launched the brand's first Woman's ready to wear line.
It was Karl Lagerfeld who also released the first couture collection under Fendi in 1966, solidifying the brand as a design house for the upper class. This also brought international attention to Fendi, as boutiques from all over the globe began vying for the privilege of carrying their many lines.
During the 1980's Fendi released its iconic Spy Bag, and the elite from all over the world began clamoring for one. This was the moment when Fendi decided it was time to take on eyewear.
When it comes to making a lasting impression, no one is doing it better than Fendi. Their extensive collection of glasses and sunglasses are full of subtle surprises that make people do a double take. Whether it be tiny floral images emblazoned on the corner of cat eyes, or the double F Fendi logo on the sides, each pair of frames offers something unique.
Fendi round oversized sunglasses have become the signature look of the stars, as seen on the lovely Lady Gaga. The new Orchidea cat eye sunglasses have also been worn on numerous runways, worn by singer Cheryl in Cannes and actress Keira Knightley. The brand has had huge success with their sunglass collections, which grows more alluring with each passing year.
Fendi doesn't let the prescription lens wearer down either, with an extensive line of frames that can meet the style demands of anyone. From bright colors to sedate wire frames, Fendi makes it easy to go from day time eyewear smart, to nighttime chic in a second. The brands ingenuity shines through in their eyewear collections, a trait which has brought them from a small shop in a tiny village in Rome, to the biggest fashion show runways in the world.
If you are looking for smart, sleek and sophisticated for your eyewear, look no further than Fendi. A brand that was created over 90 years ago from scratch, is now one of the biggest names in designer eyewear for good reason.