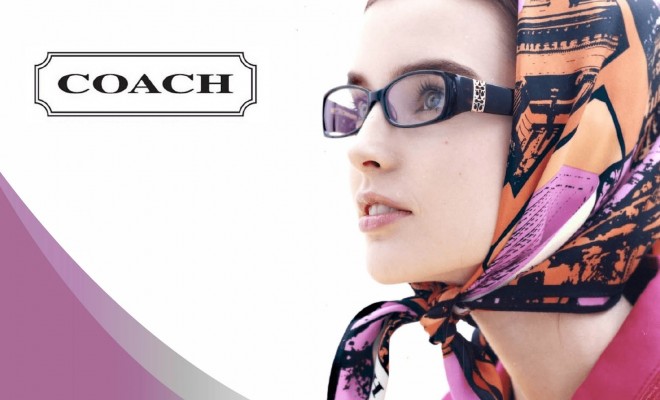 People
Featured Eyewear Brand – Coach Sunglasses & Eyeglasses
By
|
Featured Eyewear Brand – Coach Sunglasses & Eyeglasses
No matter what your age, you probably have been or still are a Coach fan, and you may still have one or two of their bags stashed in your closet or draped over your shoulder. Why wouldn't you also have a pair – or several pairs – of Coach eyewear?
Coach offers hundreds of options for the most stylish optical eyewear and sunglasses. You have the choice of frames in every possible shape, and although many of theses styles have been fashioned in metal, there are many more frames made of plastic. Plastic frames offer the greatest variety in colors and prints, and Coach delivers style in fresh combinations of color for distinctive looks that add an edge to classic design.
Current Coach collections combine metal and plastic for distinctive frames that will turn heads.
The Whiplash Square and Wayfarer sunglasses, for example, combine oversized square frames with temporal arms in a contrasting color, and a mock curb chain embellishes the temporal arms.
The Edie Cat Eye sunglasses create a signature look with refined color combinations. Both temporal arms feature a metal Coach logo button inserted at the temple. Explore the look of opaque frames or those with gradient colors designed to accent your wardrobe and flatter your face.
Beadchain Cat Eye sunglasses represent lighter and more casual eyewear from Coach. Not only are the frames thin and lightweight, but the temporal arms are equally light. Their clear acetate arms encase a silver colored beadchain that suggests whimsy and casual Saturdays.
Tag Temple sunglasses feature metal inserts along the temporal arms, and other collections such as the Carter and the Christina show off the iconic horse and coach that make up the Coach logo.
No one but Coach can offer you the selection of optical eyewear that they can. There are hundreds of styles and colors available to fit your face, your style and your purse.
A mainstay in the fashion industry for seventy-five years, Coach has always delivered an image of accessible quality goods by providing classic accessories such as bags and eyewear, and although they are expanding into luxury fashion for younger men and women, you can count on accessorizing your look with well-made Coach eyewear.
Coach has also been revitalizing its fashion design offerings for men, so look to this brand for more eyewear options as well; after all, who better than Coach to accessorize Coach?
When you choose Coach, you choose fashion that is timeless. In fact, it's likely that your Coach eyewear will become a favorite go-to accessories season after season, just like the bags and leather good you have loved for so long.