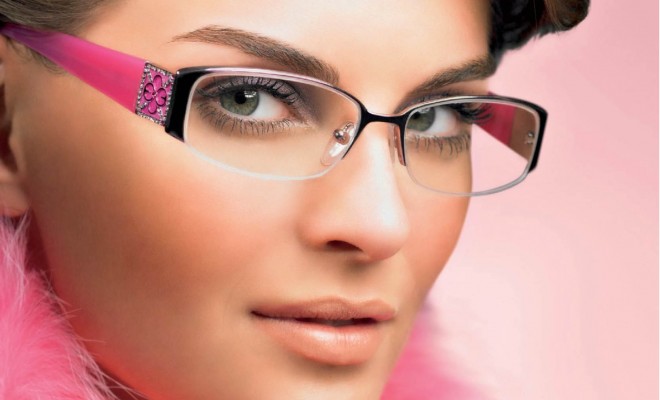 People
6 Eye-Opening Ways Your Eyewear and Make Up Affect Each Other
By
|
6 Eye-Opening Ways Your Eyewear and Make Up Affect Each Other
A great pair of eyeglasses deserves great make up, right?
Depending on the frames you've selected, you can enhance or reduce your frames'  effectiveness in helping you create a beautiful look.
Whether you prefer Jimmy Choos or Ray Bans, try these simple tips for making your eyes look fabulous while you are wearing your glasses.
Opposites attract.
Dark attracts light and light attracts dark; use the power of juxtaposition to create balance and draw real focus to your eyes.
Go lighter than your frames. Dark frames like those from Ralph Lauren can create a stunning look, but heavy eye makeup can overpower the effect. Instead, try a more natural look in eye make up by using softer eyeliner and mascara colors. The frames will set off your eyes, and your make up will enhance the effect.
Go darker than your frames. Sure, this is the exact opposite of the first point, but if you've selected bone or white frames, it's pretty much impossible to go lighter. If you've chosen these neutrally lighter colors from a designer such as Gucci or even rimless frames from the design house of Skaga, you can play up you mascara, liner and eye shadow to create a dramatic look.
Set your brow line. A definitive brow line can enhance those wonderful frames you've selected. Be sure that your brows look your best because the frames will draw attention to them; the great thing is that your brows will also set off the frames.
Lenses magnify.
Perfection matters. A clump of mascara or an uneven application of eyeliner will show up larger than life when you put on your optical eyewear. For a model-perfect look, take the extra time to apply your make up, making sure that the application is even so your eyeglasses enhance your look.
Chose shadows appropriately. Choosing between crème shadows and powder shadows comes down to personal preference and skin type. Select the type that stays on your lids the longest. If your skin tends to be oily, consider powder shadows; if your skin is drier, try the crème shadows. The right shadow will look fresh on your eyes as you sport your glamorous Prada eyewear frames.
Clean your eyewear.
Wipe down your frames regularly. Make up doesn't always stay where you put it, especially after a full day at work or an afternoon of playing softball with the team. If you are not careful, you'll find it on the nose pads of your eyeglasses or sunglasses, or even on the lenses themselves if you put on your eyewear without letting your make up dry.
Your eyewear frames can be an eye-opening accessory that augments your eyes if you keep in mind just a few make up and frames basics.