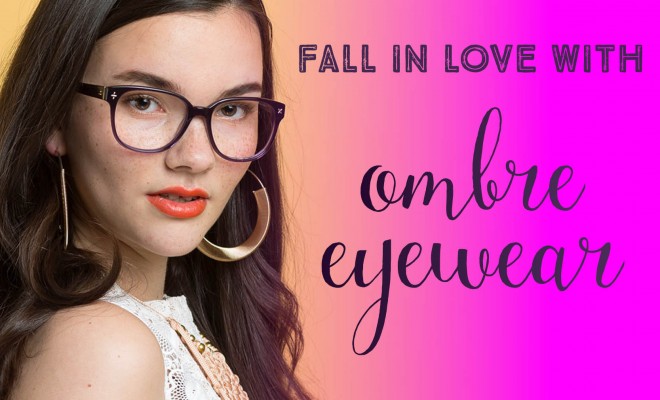 Posts
Ombre and Other Two Tone Colors That Will Make You Fall in Love With Your Eyewear
By
|
Ombre and Other Two Tone Colors That Will Make You Fall in Love With Your Eyewear
Ombre is a shade or hue that graduates gently from light to dark, and while ombre hair that goes from dark to light may be passing in fashion, there are still plenty of ombre variations in hair coloring, clothing and decorating themes.
Perhaps the one ombre tend that's here to stay is ombre frames for your optical eyewear and sunglasses. Of course ombre is attractive; it's the French word for shade, and if there's anything the French know, it's fashion.
These designers offer you some of the finest choices in ombre optical eyewear frames.
Nine West offers several versions of ombre frames, with the dark color at the top of the brow line and fading into softer shades at the bottom of the frames. Look for blacks to brown, brown to pink and black to gray versions.
Michael Kors combines teal and brown for a different ombre look. Instead of the colors fading into one another from the top to the bottom, the teal gradually becomes brown in the center of the frames.
Prada delivers their version of ombre frames in a fawn-like brown that fades into café ole, and the temporal arms are a complementary Havana print.
Juicy Couture gives you opulent ombre with their colorful eyeglasses that combine purples, blues, greens, golds and browns for a scrumptious splash of color.
Chloe gives you retro-looking black to pick rectangular frames
You can flaunt the ombre fashion in your sunglasses as well, with choices from these design houses:
Swarovski designs their ombre sunglasses in pewter to gold, and each temporal corner is embellished with three jewel-like crystals.
Tom Ford has created sunglasses in mauve to lavender or cinnamon to clear give the wearer a sophisticated and dramatic look.
Yves St. Laurent, too, has ombre sunglasses in pewter to gold; their frames are rectangular.
Versace provides you with larger round frames designed in silver tone and amber.
The ombre look, though, isn't really new at all. Your sunglasses have had "ombre" lenses for some time. You may remember them as "gradient" lenses. The gradient coloring in the lenses was much about much more than style. The gradient was first used in aviators to allow pilots to better see the gauges in the cockpit; gradient lenses mean they didn't have to look over their frames or take them off to read the instrument panel.
Today's ombre look is about more than practicality. It's about keen style that mixes color and design in fresh ways that will remain fashionable for a long time to come.
As the French would say, "MagnifiqueI" How splendid you look in those ombre frames!