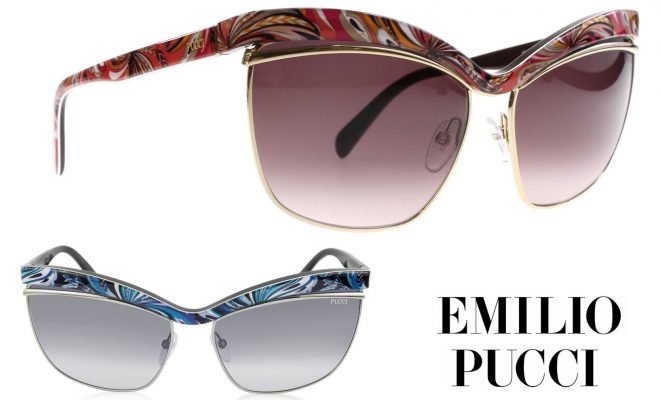 Posts
The Polychromatic World of Emilio Pucci Eyewear Frames
By
|
The Polychromatic World of Emilio Pucci Eyewear Frames 
Who said eyewear has to be unimaginative and monochromatic?
There is a vibrant world of color to behold, and it relentlessly appears in ever-changing prints. Consider how ripples on the water can spread iridescent blues and purples across a mirrored surface, or how reds and greens in field grasses ripple as the wind blows through them. Even the desert offers striking contrasts in light and design.
Emilio Pucci thought long about color and patterns, and he made his mark in Italian luxury fashion by incorporating the boldest of colors and motifs in his fashions. He drew his inspiration from the Mediterranean and his other exotic travels.
You can see the exotic influences in his design of sophisticated yet simple boutique clothing.
Today the spirited legacy of Emilio Pucci lives on, and the company is thriving on a strategy that allows them to inject bold color into more than couture fashion, including hand painted sails and eyewear.
Emilio Pucci eyewear frames offer you the colors and patterns you have come to expect from this design house. Think to the courageous prints and striking colors of the early 1960s and you come close to the Emilio Pucci vision for fashion.
The Emilio Pucci EP 0009 Sunglasses 48T in shiny dark brown give you gold frames accented along the brow line with a pattern similar to the hand dipped endpapers lining vintage and rare books. The swirling red, white, yellow and black are summer's colors, and the pattern oozes style and sophistication in a big way. In addition, the lenses are a gradient bordeaux, which complements the pattern.
Anyone who knows the history of pattern in women's fashion will recognize these sunglasses as Emilio Pucci eyewear frames.
Emilio Pucci gives you similar colors and patterns in prescription eyewear, too. The dark green acetate Emilio Pucci EP 5011 eyeglasses are a flattering choice for any redhead. The frames are dark green, and the temporal arms are an energetic swirl of greens and blues, ending in a solid temporal guard of dark green.
Not too keen on green? Emilio Pucci also offers deep blues, shiny fuxia, Mediterranean turquoise, more pinks than you can imagine and traditional choices like dark brown and black.
You can count on even the classically colored Emilio Pucci eyewear frames to bring you the same dramatic fashion; these frames bear the wild prints for which Emilio Pucci became so well-known.
There's nothing wrong with wanting to move beyond the unimaginative and monochromatic. Emilio Pucci will take you there if you'll let him.
Best of all, the polychromatic world of Emilio Pucci eyewear frames will bring joy back to accessorizing.
Emilio Pucci eyewear frames
https://www.designeroptics.com/EMILIO_PUCCI_EP_0009_Sunglasses_48T_p/ep0009_48t_61.htm