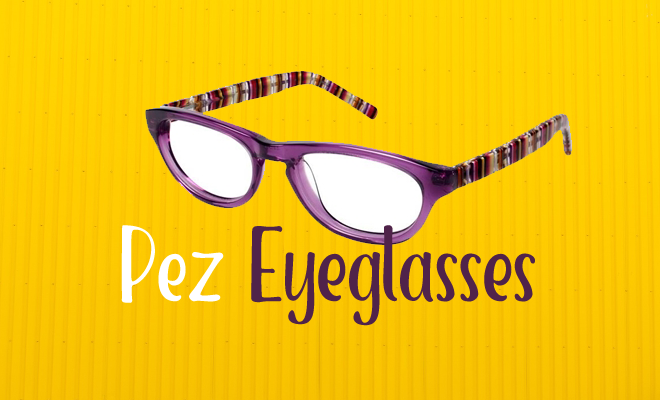 People
They'll Adore These Pez Eyeglasses for Kids and Infants
By
|
They'll Adore These Pez Eyeglasses for Kids and Infants
Kids don't always listen. A lot of the times they don't like taking direction, either, even if it's good for them.
That's why you're always reminding them to pick it up, clean it out and get it done. "Eat your vegetables," you tell them. "Clean your plate or no dessert."
"Do your homework."
"Feed the dog."
"Say thank you."
The list of reminders seems endless, especially when you have to repeat it over and over again.
Fortunately, the one thing you won't have to remind your kids to do is to wear their eyeglasses if you bought them Pez eyeglasses for kids and infants.
These colorful and super trendy frames for the younger crowd of prescription eyeglasses wearer beg to be worn. Imagine the colors of candy (and vegetables). True to the origins of its name, Pez has captured the brightest colors of kids' favorite sweet treats, and they even took cues from the garden-fresh red of a tomato, the rich green of broccoli, and the purple plushness of eggplant.
The names of the frame styles from Pez eyeglasses for kids and infants are catchy, too. Your eyeglasses wearer will want to be seen in the Ace, Slugger and Popsicle styles of optical eyewear.
The PEZ Classmate Eyeglasses 90C0 combine rich grape purple plastic frames with temporal arms that have the same purple nest to stripes of clear plastic and a brown that will remind you (and maybe your daughter) of those old fashioned root beer barrel candies you loved when you were little.
For the boys, there's a sophisticated metal frame called Football. Rectangle lenses find themselves flanked on either side with by a leather-like insert along the temporal arm. You can order these eyeglasses in traditionally neutral colors, but your next J.J. Watt might want to try some of the fun colors available in these frames.
Boys and girls may like the Jump frame style, which features tiny fish and bubbles along both temporal arms.
The Pez eyeglasses for kids and infants offer just enough style for your child to express his or her personality.
You'll appreciate how rugged these eyeglasses are. Pez knows that your kids probably won't remember you telling them, "Be careful with your eyeglasses" any more than they'll remember to wipe their feet or eat their carrots. Pez eyeglasses for kids and infants are durable enough to make it through the day with your kids.
They'll adore these Pez eyeglasses for kids and infants. You will, too. We can't guarantee anything about them liking their vegetables, though.