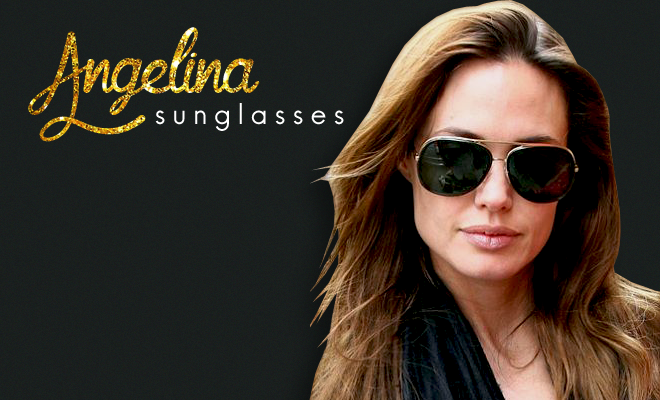 People
The Sophisticated Oversized Designer Sunglasses of Angelina Jolie
By
|
If there's anything a star like Angelina Jolie knows how to do, it's how to live large in the limelight. Although she initially made her name acting in and producing movies, Jolie has also become a well-known humanitarian who fights for the conservation of natural resources, equal human rights and education.
Angelina Jolie's interests require frequent and prolonged travel, so if there's anyone who knows the value of a good pair of sunglasses, it's this leading lady of cinema and pop culture.
So what does she prefer in the way of sunglasses?
Oversized designer sunglasses, especially aviators, are the sunglasses frames you'll see Jolie in, the most often. Pilot style sunglasses are the favorite choice when she's in casual attire, out and about for the day..
These sunglasses are the perfect travel companion, because the frames are expansive enough to cover a significant amount of your eye area and protect it. The last thing you want during your travels is itchy, irritated eyes, and these oversized designer sunglasses keep the dust and debris out.
Choose oversized designer sunglasses with lighter lens tints, and you'll feel just as comfortable in the shade as you are in the full sun. A lighter lens tint also allows others to see to your eyes, which is important for communication, whether you are discussing humanitarian rights or hailing a cab.
A pair of oversized designer sunglasses like the Ray Ban RB 3025 Aviator Large Metal Sunglasses 001/3E in gold will give you a feminine look that is still all business. The Arista gold frames flatter most skin tones, and the lens color, aptly called Crystal Brown Pink Silver Mirror, adds a soft blush about the face. Although these are labeled as men's sunglasses, women will look just as fabulous in them, maybe even Angelina Jolie fabulous.
You'll find that Jolie also likes to wear oversized designer sunglasses with butterfly frames when she dresses up. The acetate frames are lightweight accessories with darker lenses — perfect for walking the red carpet in California or attending more formal functions during the day. The exaggerated lines of the frames are feminine and serve to accent Jolie's narrow face and puting lips.
Some of Angelina Jolie's favorite designers of oversized designer sunglasses include high end luxury design houses like  Dolce & Gabbana, Tom Ford, Gucci, Ralph Lauren, Michael Kors, and Salvatore Ferragamo, to name a just few.
Begin your Angelina Jolie look with just two pairs of oversized designer sunglasses: the aviator pilot style frames for casual wear and the exotic butterfly frames for those times when you need to dress up.