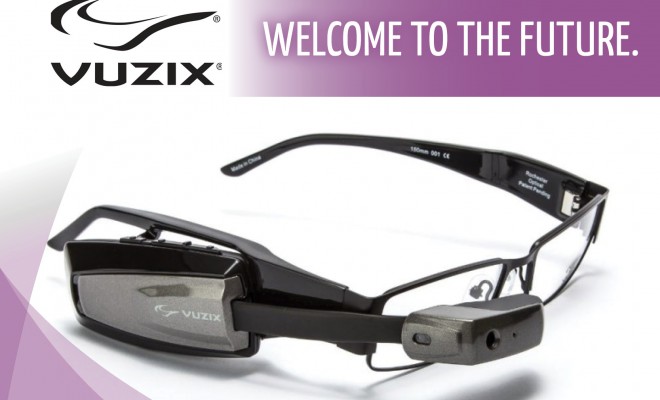 News
Vuzix M100 Smart Glasses – Welcome to the Future
By
|
Vuzix M100 Smart Glasses – Welcome to the Future
Vuzik Corporation (VUZI) has just announced that their Vuzik M100 Smart Glasses are now available to the public. The first introduction is with a prescription capable safety glass format that allows the wearer to operate hands free, accessing and recording information as they work. This ability will revolutionize the capabilities of dozens of industries.
Who is VUZIK?
Based out of Rochester, New York, Vuzik is the leading supplier of video enabled eyewear in all markets. They focus on creating personal display devices that allow the wearer to achieve a high quality viewing experience through a number of innovative products. These include:
Video Eyewear – We all know the challenge of trying to watch a video on the small screen of a smartphone, but with Vuzix's collection of video eyewear, images are transformed to a large screen format in high resolution. Expect to find these a standard part of mobile devices in the near future.
Virtual Reality Eyewear – These are vision aides ideal for gamers as they put you right in the middle of the action. Video games are just a small sector of industries who find this eyewear useful, as it is also used for flight simulation in pilot training and certain medical applications.
Augmented Reality Eyewear – Get the same first-person view of an alternate world, yet overlaid with pertinent computer generated data and content. With the use of cameras and mobile devices, a technician gets hands-free maintenance assistance.
Vuzik was founded in 1997, and has been on the cutting edge of video eyewear ever since. With additional offices now in the United Kingdom and Japan, the company holds over 48 patents and patents pending in the video eyewear field. As the demand continues to grow, expect to be hearing more about this innovative enterprise.
The Vuzik M100 Smart Glasses
A part of their augmented reality eyewear product line, M100 Smart Glasses use an Android operating system to allow the user to see clearly, access information from various apps, and work or play hands-free at the same time. On July 27th of this year, the company released a statement announcing that in conjunction with Rochester Optical, the M100 will now be available in the wearer's personal prescription strength. For now, Rochester Optical is the only manufacturer authorized to do so.
According to the statement, the introduction of prescription lenses will make it easier for companies to roll out pilot programs using the Smart Glasses without compromising the safety of those workers who rely on glasses in order to see clearly. Since they are viewing the display of Smart Glasses for long periods of time, it is imperative that the glasses be safe, give visual acuity, provide comfort and look good.
The lenses designed by Rochester Optical minimize eye fatigue, allowing for the glasses to be worn for an extended period of time. Smart Glasses bring about unique vision demands, but the new prescription lenses will compensate for those on an individual basis.
With the popularity of mobile devices and computer technology continually on the rise, it is not surprising to see eyewear taking on a whole new direction. Maybe one day you'll be sporting designer eyewear that has been outfitted with technology that allows you to see your Smartphone screen with better clarity.