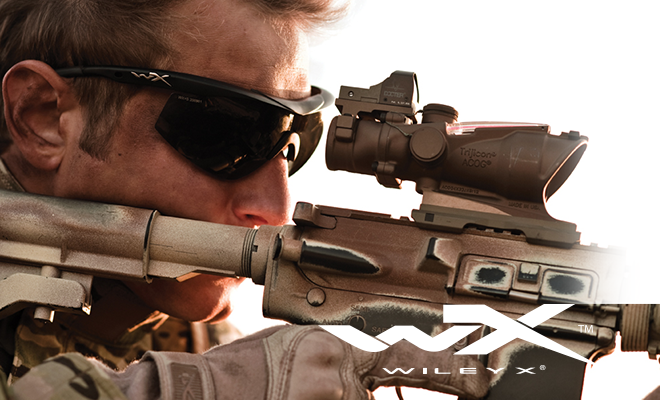 Posts
Wiley X: Play Hard, Stay Strong
By
|
The year is 1986, and there is a growing need for eyewear protection in tactical situations. Wiley X is born and begins producing high quality eyewear for the military and law enforcement agencies.
There are no tougher test grounds for eyewear than with the DEA, FBI and the military.  These agencies, as well as the Army Rangers and Navy Seals have put this eyewear through its paces for three decades, and now you can, too.
Military personnel have relied on the Wiley X brand of eyewear protection for years; in many cases, it was the Wiley X that protected their eyesight. Shrapnel to the face was no contest for the Wiley X – time after time, soldier's eyesight was preserved because the lenses remained intact.
Of course, Wiley X has been no match for IEDs, but how many IEDs does the average sportsman come across while playing 18 holes or rock climbing the northwest face of Half Dome?
Wiley X knew there was also a huge need for durable eyewear in civilian activities, and the company began to focus on producing eyewear for diverse civilian activities, including extreme sports, golfing, motorcycling and sport shooting. How many types of eyewear do you know that can survive a shotgun blast at ten yards?
The Wiley X brand of eyewear is more than durable; these sunglasses and eyewear are practical. They also have good looks.
Wiley X eyewear comes in a variety of styles, from goggles to lightweight full and semi-rimmed frames. They wrap around the face in a slight curve, creating a shield across the eye area. Select from a wide variety of styles for the best possible protection from sun and debris.
Whether you are looking for eyewear for tactical, motorcycle, racing, outdoors or safety needs, Wiley X has you covered.
This brand also understands that your eyewear must be versatile. That's why they offer climate control sunglasses with top down ventilation, and many of the styles are available with a removable facial cavity seal for when you don't need the extra protection. Some styles even come with a lanyard.
Can't choose between the clear, colored or gray lenses? Wiley X makes frames with interchangeable lenses so you can match your lens color to the activity.
The eyewear in this line is sleek and ruggedly good looking, but Wiley X isn't about high fashion. This brand is about versatility, function, durability and your safety and comfort – all with great style that you will like wearing in any extreme adventure, even if today you're just taking the dog for a walk.
You have an array of styles and options to select from with Wiley X eyewear. However, you'll need a military or other agency ID to purchase ballistic-grade eyewear.