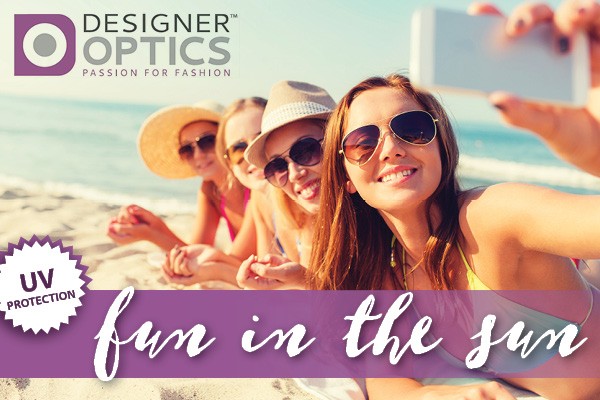 Posts
How Important is UV Protection When Choosing Sunglasses?
By
|
We like to focus on the designer look of eyewear and sunglasses, but there are protective qualities to glasses that are just as important as how dressed up your eyes are. When it comes to sunglasses, you need to be asking about UV protection and how much the lenses are giving you.
What is UV Protection?
There are different forms of energy coming from the sun, including ultraviolet (UV) rays. These are stronger than the light waves and known in the medical world to be damaging to us after frequent exposure. Your eyes are sensitive to UV rays, causing conditions such as cataracts and degeneration.
Sunglasses that have imbedded UV protection are able to block those rays from reaching your eyes and reduce the risk of damage.
Choosing Sunglasses With UV Protection
It is important to understand that the color of the lens has nothing to do with the amount of UV protection they provide nor does the level of darkness they provide. In fact, even your clear prescription glasses probably have been treated with clear UV blocking properties for your protection.
When comparing sunglasses, ask the professional sales representative about the level of UV protection each one has. This number should be at least 99% to give you the maximum protection from the sun. If you spend a lot of time outdoors, you should also consider the following:
Blue Blocking – Blue blocking lenses are able to help cut glare, especially from snow or water. These are very popular with winter sport enthusiasts as well as boaters and hunters for their ability to help make distant objects easier to see. The only concern is with driving, as these lenses and the stronger amber tinted ones can make it difficult to discern traffic signals.
Wraparound Frames – UV rays are coming at you from every direction, but you can reduce the effect by choosing frames that extend back from the eyes, or are oversized around it. The Harley Davidson sunglass collection includes a number of frames that help in blocking UV rays from entering through the side.
Polarized Lenses – These are also popular with skiers and boaters as they are able to reduce the reflected glare that bounces off of snow and water.
Polycarbonate Lenses – Not only do these provide UV protection, they are impact resistant for those who like to play outdoor sports.
The right sunglasses will instantly elevate your summer look, no matter how casual your clothes are. A basic rule of thumb when choosing the pair that best suits your face, find one that is the opposite shape. For example, if you have a round face your sunglasses should be oval or even square shaped. This helps in balancing your facial features and emphasizing its strong points.