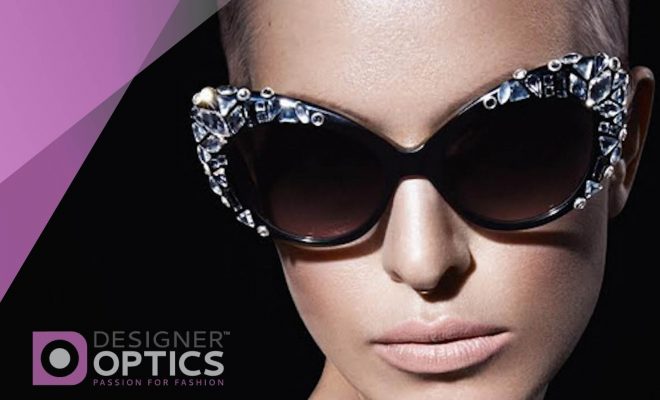 Your Eyes
The 5 Best Blinged Out Prescription Eyeglasses Frames
By
|
The 5 Best Blinged Out Prescription Eyeglasses Frames
Sometimes too much is not too much.
That's why you need to know where to find some of the best blinded out prescription eyeglasses frames.
Your first thoughts may be of Versace, because you know that you can count on Donna Versace's bold leadership in fashion and design to give you what you need. There are, however, other brands you may want to check out first for your bling prescription eyeglasses frames.
You'll find brands that go all out with rich color, like Lily Pulitzer, Juicy Couture and Carrera, but some designers pull out all the stops and give you eyeglasses with plenty of bling. This bling shows up as tiny crystals embedded in the frames of your eyeglasses, trendy combinations of metals and plastic, zany shapes of temporal arms and spectacular colors that would make any floral bouquet take notice.
Our picks for distinct bling include optical eyewear frames from Chopard, Kate Spade, Dolce & Gabbana, Guess and even Swarovski luxury designers of eyewear.
For some opulent bling that will stand out, try prescription eyeglasses frames like the Chopard A68S Eyeglasses 300X Shiny Rose Gold. These eyeglasses combine a current fashion trend with old world elegance. It is here that rose gold semi-rimmed frames meet pearls and alabaster-colored temporal arms. The result is a heavenly style that is a classy and sophisticated reminder that your eyewear is an important accessory.
The Kate Spade KS Lyssa Eyeglasses 0W55 Multi Glitter frames are a fusion of confetti colors scattered merrily against a field of bright pink. These half-rimmed eyeglasses will set off your eyes and play up your sense of humor. You are the type of person who can find fun in anything, including your eyewear.
If you like your bling to be part of the frames rather than added on, then the Dolce & Gabbana DG 3236 Eyeglasses in 512 Havana deliver what you want. These blonde Havana plastic lenses create a golden fire color, and the temporal arms have elaborate carvings on the sides.
The Guess GU 2406 eyeglasses give you gold metal links on the temporal arms, and these two links on each arms offer the chocolate brown frames and blue of the inside of the arms.
Even a simple pair of Swarovski frames like the Swarovski SK 5158 in shiny black offer a tiny bit of bling. Although he frames are plain, the arms of these glasses have two small ads of silver that frame a deep green color inset.
Today's prescription eyeglasses frames have just as much bling and style as sunglasses, and there's no reason why your daily eyewear can't be just as outstanding as the glasses you wear for sun protection.