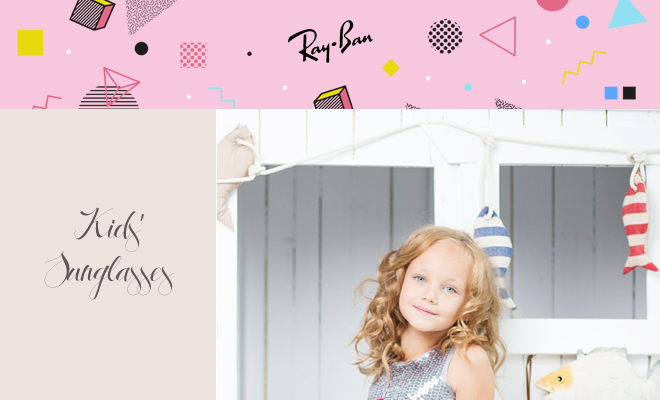 Your Eyes
Jump into Summer Fun with These Kids' Plastic Sunglasses
By
|
With summer here, it's time to get outside and into the water.  There's no school in sight for what seems like eternity, and your kids want to maximize their time outdoors. That means plenty of time at the beach, on the lake, in the river, by the pool or just playing the sprinkler in your own backyard.
You'll want to grab those gorgeous sunglasses of yours to shield your eyes from the sun's bright UV rays as you supervise their play. Your kids need sun protection, too, and here are the best picks in kids' plastic sunglasses.
Designer sunglasses for kids
Your kids will wear their sunglasses only if they like them, and the best way to guarantee they will fall in love with their protective eyewear is to make sure those frames are cool enough to be seen in.
The best eyewear for your kids this summer may be plastic frames not only because they tend to not only be forgiving during rough and tumble play, but also, these kids' plastic sunglasses also come in a variety of fun colors and patterns. Exactly what kids love, and if they love them, they'll wear them.
Luxury designers you trust
You enjoy your own luxury sunglasses, and you can do the same with kids' plastic sunglasses if you select eyewear from reputable dealers.
For kids who are constantly on the go, try the Ray Ban Jr. kids' plastic sunglasses. With nearly two hundred available styles available in this hearty and colorful material, your son or daughter can choose from classically designed Ray Bans that look similar to the grown up versions, but in every color imaginable.
Pinks, purples and reds are especially popular, and you'll also find bright citrus colors like orange, yellow and green. The blues from Ray Ban Jr. are as crystal bright as your favorite swimming pool, and some of the kids' plastic sunglasses are two-tone variations of popular styles.
Your older kids may enjoy some of the chic, sporty styles from Nike. Their color injection plastic and rubber frames are designed for the active wearer who can put their sunglasses through the paces of a busy day.
You'll find kids' plastic sunglasses that have bright pops of color along the temporary arms, accents on the frames, or frames made entirely of one bright color. The lenses have been colored with specific activities in mind, so whether your son plans to spend his day skateboarding, your daughter intends to go riding out at the stables every afternoon, or everyone is coming to your house for a swim, you and your kids will be ready to jump into some summer fun.