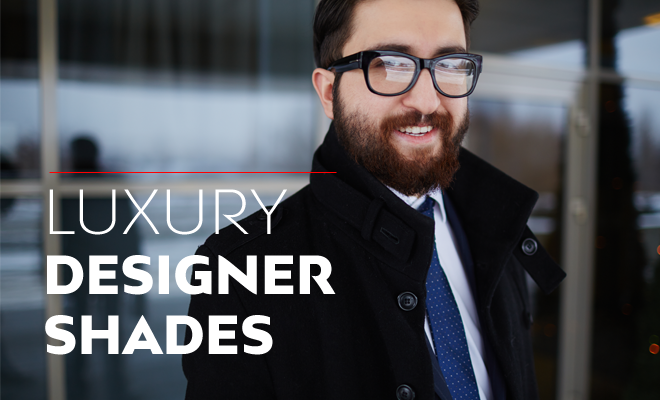 Posts
5 Things You Must Know When Buying Luxury Designer Shades
By
|
When it comes to getting sunglasses, you have a considerable amount of choices, and finding the right sunnies can be a tremendous task. Knowing what matters the most in your luxury designer shades can help you make the right choice, whether you're looking for great style, eyewear protection or both.
What's the rating?
It's hard to rate style because it really does come down to a matter of personal preference, but you can get an idea of the quality of your luxury sunglasses by their UV rating. Knowing the UVA-UVB rating may be the deciding factor if you simply can't chose between the Dolce & Gabbana or the Gucci frames.
Know your parts of speech
Grammar and your luxury designer shades may seem unrelated, but a little thing like a change in the suffix of a word makes a big difference. UV Protection and UV protective are not the same thing. These statements compare nouns and adjectives the same way you'd compare Armani and local conglomerate box store. Look for UV 400 protection.
Your scrip matters
A lot of sunnies will help offset eye strain and even eye fatigue, but that's all they'll do for your eyes – besides look good. Prescription luxury designer shades offer the best guarantee that you are getting the best protection available.
It's the process
Knowing where your sunglasses are made will tell you a lot about their construction and whether they really will hold up like you want them to.
You'll have no trouble finding shades made from plastic injection molding. Squirting liquid plastic into a mold is one of the least expensive and quickest way to manufacture sunglasses. These frames are dipped in a cellulose finish that mimics the print patterns you'll find in authentic luxury designer shades.
And guess what?
Unlike your premium sunglasses, the color and finish on the injection molded frames will crack and peel, usually before the sun season is over.
Be realistic
You've heard people complain that their luxury designer shades didn't hold up like they had hoped.  It's not surprising that sunglasses studded with crystals, inlaid mother of pearl or other embellishments lasted only one weekend. Not all designer sunglasses are meant to be worn while waterskiing,but there are designers like Smith and Oakley who cater to aquatic adventurers, and their sunglasses will hold up. of them even float.
Luxury designer shades give you quality, but you have to use the sunglasses for their intended purpose. If you're going to be physically active, opt for sunglasses from designers who cater to sportsmen and women or athletes. There's a designer brand for just about every sport.
So why aren't luxury designer shades the right choice for you?