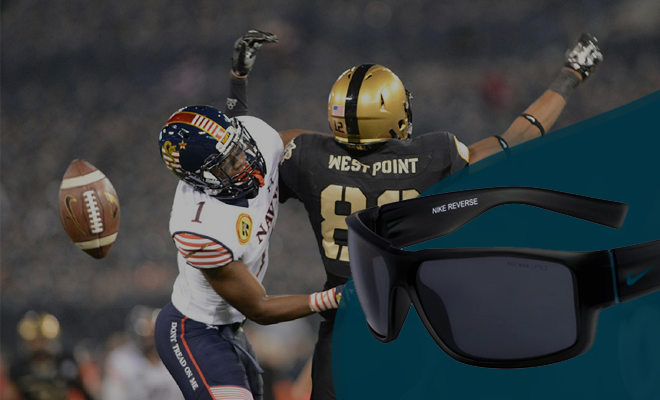 Posts
The Luxury Sport Sunglasses of Professional Football Players
By
|
It's almost time to turn to football, and the advent of the fall pro football season has fans eager with anticipation of this year's line ups in many of the teams.
You going to want to enjoy some football watching time, and you may even want to get outside to toss the old pigskin around a little yourself. When you do, be sure you don your luxury sport sunglasses to protect your eyes.
While some may say these sunnies are vanity accessories, you know that they really are about creating a style that defines who you are. Sunglasses are as distinct as the different positions played on the gridiron.
Many football athletes evoke a clear sense of style when it comes to fashion, too, and you can pick up some great ideas from the players you favor. It's possible that the position they play influences style choice. After all, great luxury sport sunglasses reflect who you really are.
For example, when you want solid sunglasses frames like a wide receiver might wear to luxury sport sunglasses —  big, fast and versatile — you should explore the Nike line of premium eyewear. In fact, NIKE Reverse Sunglasses 068 are a big and bold champion of the line, with a matte black frame finish and stadium grey lenses.
The leader of the pack is the alpha player who calls the shots; he's the quarterback.  You can expect him to have an eagle on the game, and his sunglasses help him see the plays he needs to call so he can reflect his plan back to the team.
And the quarterback's luxury sport sunglasses of choice? Mirrored aviators, of course, like the ones from Diesel. Matte black metal frames hold the mirrored lenses in place, created a rugged and masculine look.
If you prefer an edgy style with a little flamboyance thrown in, thinking about some of your favorite running backs. Their job is to run that ball to the goal, and their fleetness may remind you of luxury sport sunglasses in a shield style like those from Tom Ford or Versace.
The linebackers in the world of luxury sports sunglasses have to be the goggles from Wiley X. These frames are used to playing two roles at once, just like a linebacker. Wiley X goggles afford you excellent road protection and a comfortable fit. That's because they've been designed with a cooling technology that passes air over the lenses on the inside of the frames.
There are a lot of luxury sports sunglasses from which to choose. Picking the right pair may be as tough as picking your favorite pro football player from your favorite team. At least you know where to start. Your starting line up of great option in luxury sports sunglasses begins with Designer Optics.