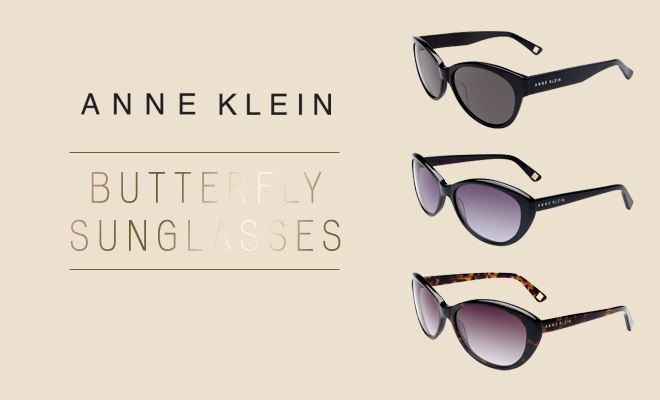 Trends
Anne Klein Butterfly Sunglasses Take Wing
By
|
With summer here, it's time to get out into the sun and enjoy basking in the warmth of long days and fun outdoors.
The sun's rays, however, can have a negative effect on your eyes if you're not wearing the right kind of sunglasses; without a good pair of sunglasses, you wont even want to hang around outside for very long. For extended time in the bright sunshine, you want sunglasses that protect your eyes completely.
You want butterfly frame sunglasses, specifically Anne Klein butterfly sunglasses. If you have an oval shaped face, these frames will look spectacular on your face.
The butterfly shape works its magic in two ways. First of all, these expansive and taller frames create the illusion of wider, more sculpted cheekbones. Secondly, butterfly frames are large enough to completely cover the eye area and protect both your eye and the tender skin around it.
Anne Klein butterfly sunglasses give you a feminine look that is ready for any outdoor activity, whether you are planning a day at the beach or a backyard cookout. You can choose between sporty or couture frames that will be the perfect accessory every time you step out your door.
Try Anne Klein butterfly sunglasses like these:
Metal frames
The lightweight look and feel of gold metal is the standard material for these Anne Klein butterfly sunglasses.  Available in both traditional gold color and the immensely popular rose gold, these frames create a light look for your face, and you'll like the feel of them too.
They have nose pads to help your sunglasses stay in place while providing a customized, comfortable fit. The lenses are available in traditional grey-green for standard wear, like driving, and brown for those times when you need to distinguish water from land, such as when you're playing golf.
Acetate frames
Anne Klein butterfly sunglasses in high quality acetate epitomize elegance and good taste. These sunglasses are created in varying colors of tortoise pattern. Choose between plum, mocha or blue to create that perfect accent when you are shopping the market in the morning or spending the afternoon by the pool.
Each butterfly style frame contains the traditional tortoise pattern flecked with the same color as the temporal arm. For example, the plum tortoise frames have plum in the print on the front of the sunglasses and solid plum colored temporal arms. The blue sunglasses have ivory colored arms and blue lenses.
Not sure about butterfly for your face?
Anne Klein has more than one hundred other styles and colors of sunglasses to help make your summer perfect.