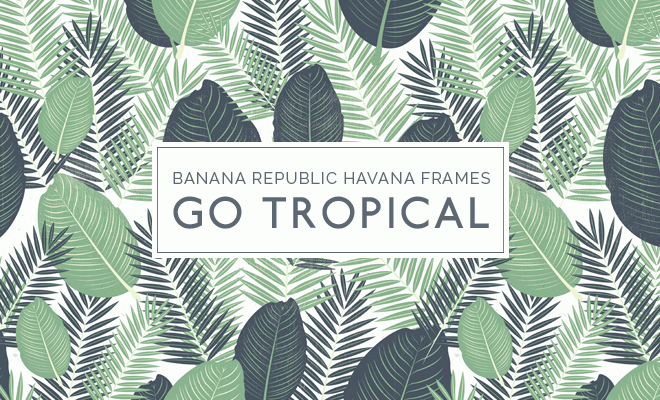 Trends
Banana Republic Havana Frames Go Tropical
By
|
Your backyard may be more lawn and less sand and water, but your Banana Republic Havana frames might make you feel like hosting the ultimate Caribbean party.
A Caribbean-themed party is fairly easy to pull off with the right decorations, music and food.
One of the best ways to get started is to put up a big mural of a Caribbean beach. You can purchase something pre-printed or use your digital projector to cast a live webcam shot of your favorite beach onto a white sheet.  Add a few exotic plants and flowers, and you are done decorating.
Next, plan your party menu. Include some jerk chicken, coconut shrimp, black beans and fresh tropical fruits. Pick out some Reggae and calypso music to get your guests in the mood to dance in conga lines or play a little limbo.
With a few brightly colored lawn chairs added in, fruity rum drinks and your Banana Republic Havana frames, you'll be ready to host the best Caribbean-themed party ever.
Which Banana Republic sunglasses do you need?
Large sunglasses like the Banana Republic BR Hannah Sunglasses 0V08 in dark Havana will give you an exotic look that says you not only know island life, you live it every day. These frames feature the honey gold and rich brown Havana print on the front and are flanked on either side by temporal arms of ivory.
Other Banana Republic Havana frames like the Banana Republic BR Blake Sunglasses 0086 in dark Havana use a cat eye shape to give you tropical Caribbean sex appeal. These shiny frames are offset with solid opaque black arms featuring a small gold embellishment on either side.
The Charley Banana Republic Havana frames are large square sunglasses that give you more than ample eye coverage, protecting your eyes from the sun.
All of the Banana Republic Havana frames are made with injected propionate, a high-end plastic that won't peel like the print inferior sunglasses. The dark Havana frames have been outfitted with brown gradient lenses, so you know they are tropics-oriented. Brown lenses help you distinguish more clearly between land and water features.
If you find the Havana frames aren't quite your color, be sure to check out the tortoise print frames from Banana Republic. Tortoise includes black and ivory colors in the exotic print.
You might not be able to get away to the tropics as often as you like, but with the right sunglasses, you can live the lifestyle from wherever you are.
Think tropical. Think Banana Republic Havana frames.