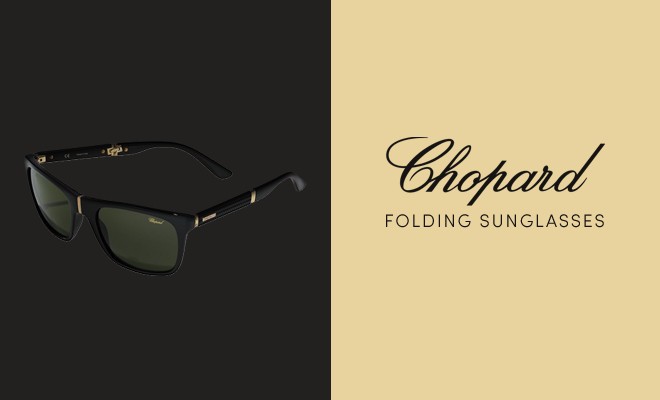 Trends
Experience the Superior Excellence of Chopard Folding Sunglasses
By
|
Like any Swiss company that crafts jeweled timepieces and becomes well-known for the caliber of their products and quality of their work, Chopard has proven that it has staying power in the luxury goods market.
Europeans, Russians and Scandinavians prized the highly sought after watches above all others, but by the 1960s, Chopard stepped into new markets thanks to new leadership. Although they continued making superior timepieces, their new product lines included small leather goods and handbags, jewelry, writing instruments and naturally, eyewear.
Chopard eyewear combines the meticulous handiwork of watch-making, the design savvy of fine jewelry and the quality of premium leather goods that comes from decades of craftsmanship and experience.
In addition, Chopard quickly has become well known for vintage designs in prescription eyeglasses and sunglasses as well as contemporary style in designer luxury eyewear. Patrons still adore the exquisite attention to detail in every design, and they appreciate the quality with which these eyeglasses and sunglasses are made.
This design and quality is most evident in the Chopard 135 Folding Sunglasses Z42P in black and rose gold. These elegant beauties designed for men exude sophistication and elegance, and it all begins with the frame. Black is a preferred color in sunglasses because of its versatility, and rose gold remains a popular metal of choice.
The shiny black square frame holds in place green the green polarized lenses that you need for most day activities, whether you are driving your sports car along a winding road in the countryside or dining al fresco in the late afternoon. Accented with a bar of rose gold in the middle of the bridge, these frames fold in half at this center point.
The arms, too, fold inward, and the sunglasses fit nicely in the palm of your hand or their case. Their small and discreet size is perfect for fitting in a pocket or a briefcase without taking up room you want for other things.
If you've had folding sunglasses before, you know how delicate the folding hinges on the arms can be. The Chopard folding sunglasses have gold hinges that work with the precision of a timepiece. You won't be disappointed in their performance, no matter how many times you fold and unfold them for use.
The Chopard folding sunglasses are the kind of accessory that defines your sophistication and style; it shows that you set your standards higher than most.
You'll have patterned detailing along the temporal arms, trimmed in rose gold and accepted with the Chopard logo at each corner.
Chopard folding sunglasses. Real luxury, quality and excellence, like you deserve.