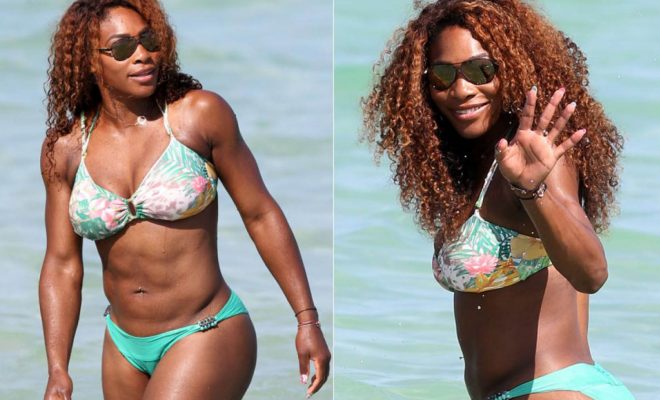 People
The Big, Bold Look of Oversized Luxury Sunglasses Worn by Serena Williams
By
|
The Big, Bold Look of Oversized Luxury Sunglasses Worn by Serena Williams
When you are good at your game, people notice. They can't help but pay attention to top performers.
Those who excel at what they do, like tennis player Serena Williams, often like to showcase their confidence by wearing audacious styles that make others notice them.
For Serena Williams, that audacious style comes not only in the tennis clothes she wears on the court, but also in the oversized luxury sunglasses she wear off court. They are the accessory that makes her stand out like the athletic superstar that she is. Fans know Serena for more than her powerful tennis serve — she's also beautiful and stylish. Serena knows sunglasses.
You can sport a similar style with similar oversized luxury sunglasses and you can wear them with the same confidence as Serena, knowing that they will play up your face — especially your cheekbones — and highlight your hairstyle.
For over the top sex appeal, turn to one of Serena's favorite eyewear brands: Dolce & Gabbana. Look for acetate frames like the Dolce & Gabbana DG 4216 Sunglasses 29388G.
These are large butterfly frames with printed red roses on a black background. The substantial temporal arms, with their wide width, conveys an impression of strength. The grey gradient lenses give you the right kind of sun protection because they reduce glare without sacrificing true colors.
You'll also flash the infamous gold D&G logo on each arm of these frames.
Other luxury designers of oversized luxury sunglasses include notables like Bobbi Brown and Furla.
Check out the  Bobbi Brown Gretta Sunglasses, especially in black-blue tortoise, for a classy look. These sunglasses frames are solid opaque black at the top and then they fade to a blue tortoise print that can be achieved only by creating layers of aged acetate.
If you are worried that all oversized luxury sunglasses have exceptionally thick frames that feel uncomfortable in the heat, know that the Furla design house favors thinner and narrower frames. Sunglass like the Furla 4326 A76 model in shiny rose gold will give you the trifecta of oversized glamour — rose gold, havana print temporal arms and lightweight comfort that you'll enjoy all day long.
Even if you are not athletic, oversized luxury sunglasses will accentuate your best qualities as you sun by the pool or at the beach. These sunglasses are to beachwear as stiletto heels are to your little black dress. Extravagant frames can be the one accessory that dresses up any swimsuit-cover up combination.
We cant make any guarantees about your tennis game, but you'll at least look every bit as fantastic as Serena.