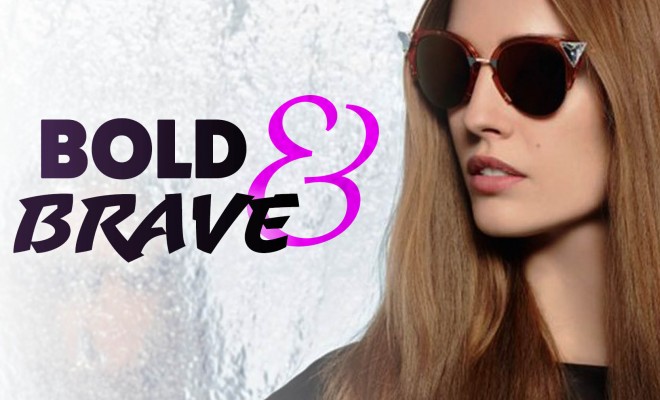 Your Eyes
Bold and Brave Luxury Eyewear for Confident Women
By
|
Bold and Brave Luxury Eyewear for Confident Women
Let's face it. You've got it and others want it.
Your confidence is what carries you throughout the day, and that confidence comes directly from your behavior. You stand up straight, look people in the eye when speaking to them, keep your hands and feet still and you are comfortable being you.
Not everyone can pull it off, but you are no wallflower.
Your confidence shows up in your daily routine with every action you take, from sitting tall in a chair to wearing luxury eyewear that stand out in a crowd.
It takes a special woman to wear some of the bold and brave luxury eyewear styles available today. These designs are attention getters, and they will get you noticed because of their design, the prints and the embellishments.
Chloe – For starters, try the Chloe CE114S Sunglasses 724 in gold. These gorgeous frames give you the best of this season;s most popular metal — gold — and the round frames are ringed with a second wire encircling the lenses to make them appear as they are floating within the frame.
Diesel – The Diesel DL 0139 Sunglasses 56A in Havana sport the classic print made popular decades ago, but have a facelift with the application of denim on the front of the frames and owners of the temporal arms.
Fendi – If you are not afraid to zig when others zag, you'll love the outrageously bold design of these frames. Just the name of the Fendi FD 0137 Sunglasses 0NT2 in matte shiny black should tell you that these sunglasses are about juxtapositions and contradictions. The round rimmed frames are set inside a stylized pair of acetate cat eye frames augmented on either side by zigzagging temporal arms. The finish of matte shiny black gives you the best of both worlds, just like the frames.
Marc Jacobs – Oversized frames get no better than the Marc By Marc Jacobs MMJ 490 Sunglasses 0LQX in gray peach. You might think these ombre pastels are demure, but it's the frames that give you the bold look of confidence and style.
Tom Ford – Another outrageous style combination is that of the Tom Ford FT 5276 Eyeglasses 001 in shiny black. This designer took a fab pair of wayfarer frames and adorned the front of them with stylized gold aviator frames that appear clipped on to the front. The look is an attention-getter, and these frames give you two of the most popular frame designs in luxury eyewear.
Gender-based designs are becoming a thing of the past. Men, too, can look brave and bold with many of the frames from luxury eyewear designers. No style off limits, and neither is color. If you love it, wear it!
The important thing is to be brave and get out there and flaunt your confidence while wearing that luxury eyewear. It's a feat only you could pull off.