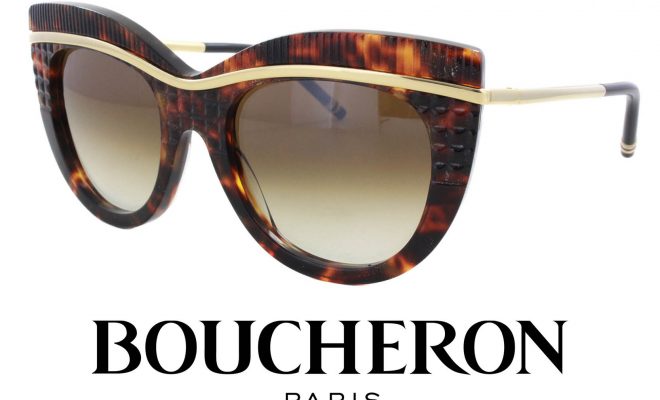 Trends
Boucheron Exclusive Luxury Sunglasses That Are Sweeter Than Eye Candy
By
|
Boucheron Exclusive Luxury Sunglasses That Are Sweeter Than Eye Candy
It's not easy finding the right pair of luxury sunglasses, especially if you are looking for impeccable style with a real sweet spot.
Your luxury designer sunglasses have to be stylish, look good on your face, and incorporate some of the season's most desirable trends. Impossible to find, you say?
Designer Optics says, Not impossible — try Boucheron exclusive luxury sunglasses.
Boucheron may be new to the world of luxury designer sunglasses, but this sophisticated design house from Paris has been providing couture fashion to royalty and the wealthy American families since the mid-1800s.
They may be your preferred designer and purveyor of fine perfume and accessories, too. No one does design better than Boucheron.
The exclusive luxury sunglasses of Boucheron take their design cues from the glamour the 1980s. Most of the designs incorporate red goals and Brown's, and the frames take advantage of contemporary sunglasses materials, including lightweight metals, cellulose acetate and wood.
The result is some sweet-looking eyewear that seems more like high end jewelry than an every day accessory. In fact, Boucheron luxury sunglasses are sweeter than eye candy; these eyeglasses and sunglasses are made by Gold & Wood, legendary crafters of excellent eyewear.
Take, for example, the Boucheron BC0002S Sunglasses 11ZHZ000 Avana. These frames give you layers of paralleled excellence sun protection and drop dead gorgeous style.
The oversized frames are an opulent Havana style print  that appears be be stacked against an under frame of gold that shows like a tiny ruffle at either side of the frame. The gold temporal arms attach to the front of the Hanava frames, and end in a rounded Havana temporal guard capped with two gold rings at each end.
The temporal sides are an extravagant multilayered ruffle consisting of a row of metal fluting, a row of pave crystals and a row of gold metal fluting.
The result is undeniably rich, and wearing these Boucheron luxury sunglasses will make you stand out in a crowd — few others will be able to pull off a look this refined, elegant and elite. Sunglasses like these are legacy accessories — the kind that you will want to pass from generation to generation.
Not everyone will be a candidate to wear such incredible luxury; only a few can pull it off. Even at discounted prices, some of the Boucheron sunglasses will set you back a car payment or two.
It may take several weeks for these Boucheron luxury sunglasses to ship to you, but like your high quality jewelry, good things are worth waiting for.
Getting to wear these sunglasses will be one sweet experience.