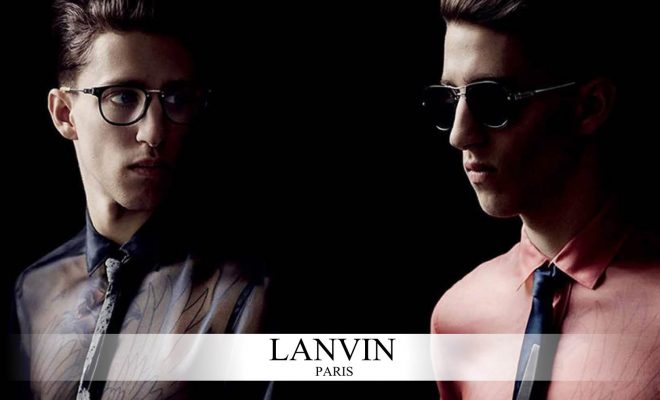 Posts
Get Smoking Hot Looks with Lanvin 627 Sunglasses
By
|
Get Smoking Hot Looks with Lanvin 627 Sunglasses
Summer will be here soon enough, and with warmer days already calling you outside, it's time to start thinking about backyard and beachside barbecues that give your grilled meats a smoky flavor that can't be replicated — not even in the best gourmet kitchens.
There's something to be said for a man with a grill and a thick t-bone or a rack of ribs, and if that man also wears good-looking sunglasses that protect his eyes outdoors, you can count on a smoking hot time.
For the hottest looks in men's sunglasses, you need frames that don't overshadow your efforts at the grill. You must have classically styled frames in a matte black finish, and these frames need a little interest too, so there's there's more variety than just the black frames themselves.
Sun protection frames like the Lanvin 627 Sunglasses 703 in matte black smoke will get your briquets burning and keep the fires smoldering.
These masculine sunglasses give you the matte black frames that say you are serious about your outdoor activities and especially your eyewear protection. The grey lenses create more than a smoky look that complements your time by the grill.
This color allows you to see authentic color without the distortion that could cause you to flip those burgers before they're ready or overcook your dogs because you just can see if they're done.
The Lanvin 627 sunglasses have temporal arms in a striking Havana print that contains ambers and browns – the perfect color combination for summer days. Think about the colors in the Havana as the colors of pale ale, lager and porter — these beer colors are the right accompaniment for any shades that are smoking hot.
The temporal arms of your Lanvin 627 sunglasses are fashioned with a gunmetal hinge that reaches into the black matte finished frames. A single matte black flat head screw fastens the hinge onto the frames at each side, making these sunglasses ruggedly good looking.
The Lanvin 627 sunglasses may remind you of the powerful grilling tools you use to put a spectacular feast out for family and friends. These sunglasses are good looking, sturdy, and they get the job done when it matters the most.
But most of all, these sunglasses from the luxury designer Lanvin will satiate your appetite for protective eyewear that will afford you  fresh good looks while you tend to the barbecue — or anything else that needs doing outdoors.
Go ahead and throw those steaks on the grill.
You're almost guaranteed smoking hot looks with your Lanvin 627 sunglasses while cooking up a feast.