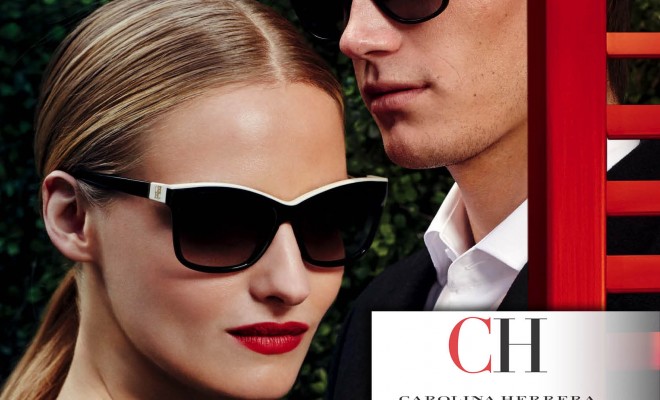 News
Carolina Herrera NY 546 Sunglasses Steal the Show
By
|
Carolina Herrera NY 546 Sunglasses Steal the Show
There are sunglasses and then there are sunglasses.
Some styles of sunglasses may be okay for everyday use — like the pair you grab when you run to the post office or work in the yard. Sunglasses like these are as comfortable as your old tennis shoes, but they are not be the type of sunglasses you'd want to be caught in when you want to make an impression. They certainly aren't anything remarkable.
Then there are the times when fashion and style are foremost in your mind, and everything you wear must work together, giving you a notable look. You wouldn't wear your everyday sunglasses any more than you'd wear your beat up tennis shoes.
When you reach for the sunglasses to go with your more dressy clothing, reach for your Carolina Herrera NY 546 Sunglasses 722 in dark Havana and gold. They'll help you steal the show, and you'll love them for their impeccable design and quality.
The rich looking coffee colored hues of Havana print in your Carolina Herrera NY 546 sunglasses are a well-heeled alternative to standard — and sometimes boring — black.
The Havana goes just as well with everything you wear, but it creates a softer look than the black most other people turn to. The gradient lenses of these sunglasses allow you to shield your eyes and yet read when outdoors; they also give the frames a polished look of luxury.
The Carolina Herrera NY 546 sunglasses have gold insets in the temporal corners, and although these insets may remind you of other immensely popular eyewear brands, the resemblance stops there. The cellulose acetate temporal arms sweep downward before stretching back to the ear, and the gold from the inset forms a second temporal arm that attaches to the acetate.
At the corner where the arms meet the frames lies a gold C and H, for the Carolina Herrera fashion brand. The inside tips of the temporal guards feature another branding, this time in a diamond shape of gold.
These are the frames to wear when having lunch at a sidewalk cafe or while strolling arm-in-arm along a romantic river walk. They say that you love good style, elegant taste, and are the kind of woman who will splurge on a little luxury for yourself, because, after all, you've earned it.
Carolina Herrera NY 546 sunglasses will help you steal the show when you are ready to step away from the ordinary and steal the show.