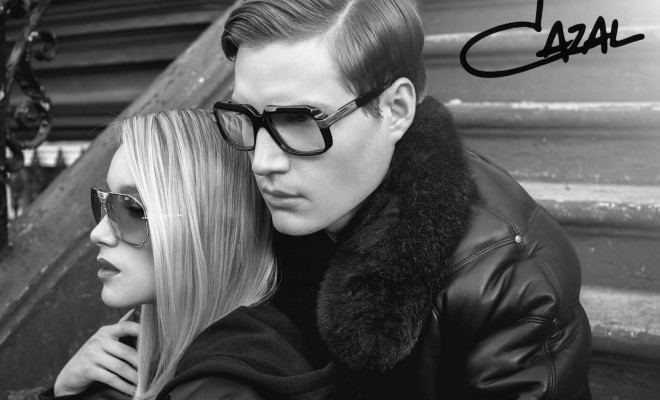 Stories
Cazal Delivers Extraordinary Geometric Frames
By
|
Cazal Delivers Extraordinary Geometric Frames
Whether your realize it or not, you've seen Cazal frames.
They are easily recognized by their attention getting geometric frames, but these frames are much more than that. They feature pops of gold at the temporal corners, along the bridges and on the arms of your eyewear.
The extraordinary geometric frames from Cazal announce that you are a person of money and good taste, riding on top of the wave of success and coming in a head of the ship so many others are waiting on.
Cari Zalloni began this brand of fashion eyewear with the intent to shake up the eyewear design industry by creating fashion forward frames in unique geometric shapes, and he did just that. Cazzy eyewear (as longtime fans lovingly refer to it) has long defined hip-hop style since the 1980s, and this fashion house has set its goals on remaining relevant to consumers today.
Cazzy geometric frames include traditional shapes like the aviator teardrop, round and square designs so popular today. You'll also find fly shapes like pentagons, hexagons and more.
Then there are the asymmetrical shaped geometric frames, like the Cazal 858, with a more expansive lens on the left side of the frame and a smaller lens – but more frame – on the right side. The lavender colored lenses sit inside clear acetate frames accented with turquoise and pink, and of course, the temporal arms feature gold wire embedded in clear acetate.
For more traditional sunglasses – if there is such a thing in the world of Cazal eyewear – try the Cazal Legends 163_sun Sunglasses 001in black and gold. The hexagonal oversized frames appear chiseled from black acetate, and this chiseled look complements the unusual frame shape, which is reminiscent of pilot styles frames – with harder edges.
The bridge bears three deeply etched horizontal lines, and it delivers strong detailing for a profound look that is strong and confident.
Like all Cazzys, these sunglasses drip with gold accents, from the styled gold temporal arms to the gold Cazal logo in the upper left corner of the left lens.
You'll stand out in Cazal optical eyewear, too. Frames like the Cazal 6009 Eyeglasses 002 are more subtle in geometric frame shape, but their black-blonde color adds a pop of distinction to the frames.
With the upper half of the frames in black and the lower half in a honey-blonde Havana print, this pair of prescription eyewear delivers on unique style. The inside of the temporal arms are gold, and the outsides are black, embellished, of course with the gold Cazal name.
Cazal has immortalized hip geometric frames for the unabashed man or woman who prefer innovative style.
Love them or hate them, you have to agree that Cazal delivers extraordinary geometric frames for your eyewear needs.
About choices available in Cazal eyewear. Picture of someone wearing unique geometric frames from Cazal.