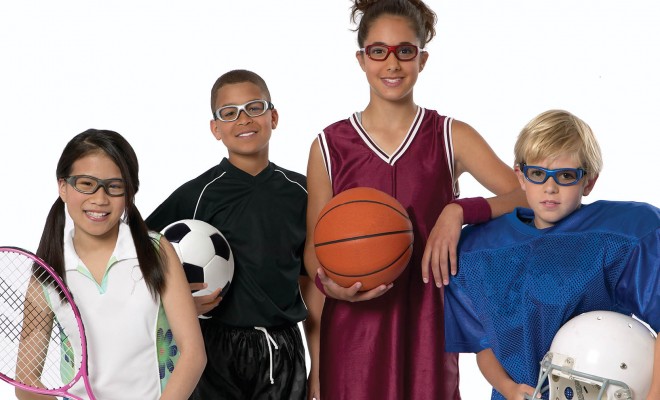 People
Good Kids' Eyewear Ain't Just for Schoolwork
By
|
Good Kids' Eyewear Ain't Just for Schoolwork
It's your job to protect your kids and keep them safe, and yet it can seem like one pretty tough assignment. If you have kids, you know how hard they can be on clothes, toys, furniture and especially eyewear.
Kids' eyewear is the last thing on their minds, but it's in the forefront of yours.
Where are your glasses? becomes your standard mantra, whether your kids are headed off to school or just out to play. Even if your child doesn't wear optical eyeglasses, you do still ask about his or her sunglasses, right?
If you don't, you should. Really good kids' eyewear is critical for safety, especially when playing sports.
Outdoor Play
By all means, let your child play outside to get some fresh air, but be sure to require proper eye protection.
But the kids will just be playing in the snow, you say? There's no greater risk of glare affecting vision than on a sunny day when there's plenty of fresh snow on the ground. And if it's summer, and your kids are playing with the water hose, that's the second most dangerous time for glare. Bright, sunny days invite piercing light that refracts rays.
Repeated exposure to glare can cause headaches, and over time the UV rays can cause more serious conditions.
Good kid's eyewear for outdoor play includes styles like the Nike CHAMP or the Gucci 5006 sunglasses that kids will enjoy sporting outdoors.
Injuries
No one wants to see a child get injured.
Wearing protective kids' eyewear is one way to significantly reduce the likelihood of getting a black eye during rough and tumble play. Bruising, however, isn't the only eye injury to worry about. Collisions in contact sports like football and hockey could cause internal bleeding of the eye or retinal detachment, and kids have also experienced eye injuries while playing sports requiring eye-hand coordination, like softball or tennis.
While you can find sports goggles, even for prescription eyewear, try sleek and modern child styles that you child would be willing to wear on the field, or at least seek out eyewear like X Games ROTATE that doesn't give in to rough play.
The solution isn't to sit on the sidelines; it's to make sure your child wears protective eyewear or goggles during activities like these.
Eyeglasses
Optical eyewear can also protect the eyes from dust and other debris. Favorites in kids' eyewear include the Flexon Kids series in juicy colors like raspberry, tangerine, lavender and blueberry. They are the kinds of eyeglasses kids enjoy wearing because of the great style, and you'll like how rugged they are.
You can't protect your kids from everything, but at least if they're wearing tough kids' eyewear, you'll know they are protecting their eyes and vision, especially when their day is about much more than schoolwork.