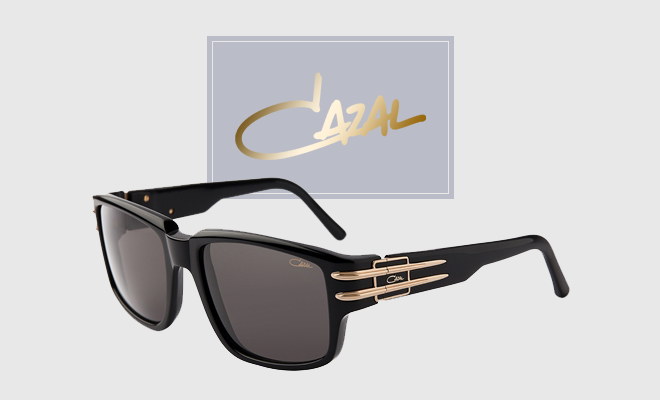 Trends
Cazal Luxury Sunglasses That Give You an Edge
By
|
Sunglasses seem to be the one accessory that everyone has, and rightfully so. You ought to have good eye protection. You also ought to be able to have excellence in design and style that doesn't look like what everyone else wears, and that's where Cazal luxury sunglasses come into the picture.
When you are ready to get serious about elite sunglasses, you are ready to get Cazal luxury sunglasses.
Cazal brings you German design and engineering quality, and the Cazal 8026 Sunglasses 001 in shiny Black-Gold-Silver give you both by combining one of today's favorite trends of large square black frames with exemplary attention to style and craftsmanship.
These frames feature a definitive edge along the brow line, and the bridge arcs in a sensual curve that joins the lenses. The most notable feature of these sunglasses, however, is the treatment along the temporal arms. These arms are wide and bold, and the hinges are nicely hidden on the inside of the frame.
Because these are Cazal luxury sunglasses, you expect a little ornamentation on your eyewear. The sunglasses create an edge you haven't seen before. At either temporal corner run two sleek, raised lines of gold. Under these lines lies the indiscreet Cazal logo.
The look is edgy, with a nod to both elegance in design and opulence that says you have arrived.
Popular among hip-hop artists, Cazal has created a following far beyond pop culture and trendy fashion styles. Cazal luxury sunglasses have carved a niche for themselves in the must-have designer accessory market. They are big and bold sunglasses that get you noticed.
You'll be in good company because many of the Hollywood and music industry elite wear Cazal luxury sunglasses when they want to dress up and make an entrance. This is the look worn by Al Pacino, Lady Gaga, Gwen Stefani and Will Smith.
It's unabashedly distinct and completely over the top in design and quality. It's the right choice for your professional wardrobe, but you'll feel just as comfortable wearing Cazal luxury sunglasses with your casual threads, too.
These sunglasses are some of the most coveted in the world, and each style seems to become a collector's item. With vintage Cazal luxury sunglasses being such a hot accessory in the wardrobes of the famous, many of the styles are prized finds. The Cazal 8026 luxury sunglasses will likely be one of the styles people hang on to.
These Cazal luxury sunglasses are the right choice for men or women. Hollywood and pop culture has already proven that; now it's up to you to begin your own Cazal collection.