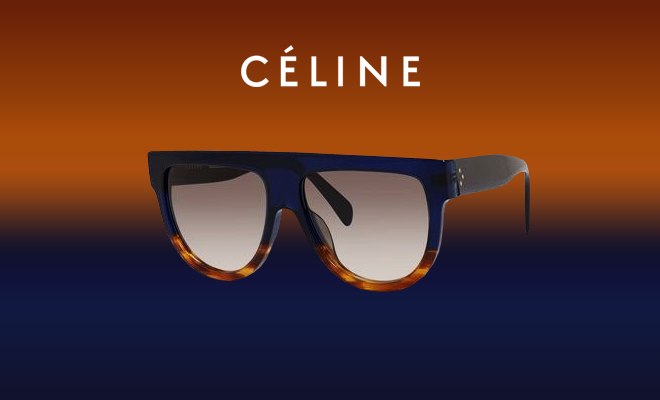 Trends
Two-Toned Celine Sunglasses to Make You Swoon
By
|
How tired are you of over-the-top fashion that makes you work with the design instead of having design work for you?
It's time to go back to the simple life where you can enjoy what's truly important. That means the good design of Celine luxury eyewear will fit your lifestyle; you won't have to change who you are to wear Celine.
No wonder Celine eyewear has been a favorite of Hollywood stars, and today, they are favorites of lingerie model Alessandra Ambrosia, singer Rihanna, and actresses Selena Gomez and Liv Tyler.
That's because the lines in these eyewear accessories are classically simple. They augment your lifestyle rather than detract from it. You don;t become your sunglasses frames; they become you.
Celine sunglasses are deceptively simple in style, but they are also notable because of their unusually thick frames and temporal arms. These frames have a presence of their own, but they won't overpower your face or your personality.
Nowhere is this more true than in the two-toned Celine sunglasses that will make you swoon.
With this particular design, you get the thick frames and temporal arms you expect from Celine eyewear, and you also get subtle style. For example, the Celine CE 41026 Sunglasses 0QLT in blue havana create a distinct look that you'll want to make your signature.
The frames are a deep cobalt blue along the top, and the frames fade into a rich honey havana at the bottom. The two-toned color scheme is a simple way to provide contrast and interest without affectation.
If blue is not your thing, no problem. This same frame is available in black and also in green brown, but the two-toned look doesn't stop there.
Not everyone enjoys the golden tones in the havana print, and they prefer the ash-tones in tortoise prints. Celine two-toned sunglasses are available in tortoise print juxtaposed against solid jewel tone colors you'll want for your wardrobe.
For the simplest design in two-toned Celine sunglasses, try the Celine CE 41026 sunglasses that fade from navy blue into a soft sand color or into a deep burgundy.
The elite French fashion of Celine eyewear, has risen to new heights of style with the two-toned Celine sunglasses. They have reinterpreted a traditional design, making it fresh and contemporary without being overbearing.
That means you define who you are, not a pair of luxury designer sunglasses.
Now go get those two-toned Celine sunglasses; they'll make everyone around your swoon.