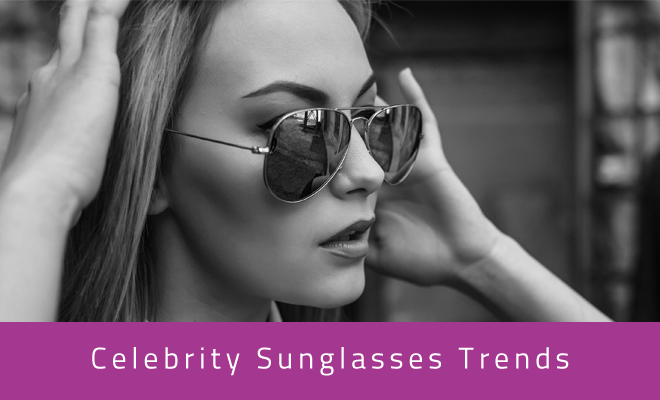 Trends
Celebrity Sunglasses Trends to Watch in 2017
By
|
Celebrity Sunglasses Trends to Watch in 2017
You may be like the many fashion-forward celebrities who are looking ahead for the latest in eyewear trends. Perhaps you've already added the latest and greatest in luxury eyewear to your fashion accessories template.
If you are like the rest of us, though, you've been holding off long enough to decide which celebrity sunglasses trends you want to make your own.
Wait no longer, because these sunglasses are already here and stylish celebs are already rocking these new styles for winter 2017. Let's take a look at some of the most popular celebrity sunglasses trends.
This season, it's all about combinations. You likely won't find "just" a pair of simple aviators or round frames. Instead, the frames are creative-combo types that merge two or more distinct styles into one. For example, the traditional round sunglasses frames of the past are combined with cat eye frames to make a unique accessory.
Here are some other celebrity sunglasses trends you'll want to follow:
The adventurous aviator
Aviator frames have always marked the wearer as someone with an affinity for adventure. Now you can make that point even more strongly with the 2017 aviators that combine classic aviator style with intriguing elements, such as double bridges made out of alternative materials or designs. Sunglasses like these set Alexa Chung and Natalie Portman apart from their peers.
Oversized everything
The latest celebrity sunglasses trend shows an affinity for oversized frames. These sunglasses can be round lenses on cat eye frames, or the may be reinterpretations of 80s-styled frames or double-rimmed sunnies like those worn by Leonardo di Caprio.
Lenses matter most
Pay particular attention to the lenses of your sunglasses. The celebrity sunglasses trend for 2017 falls into several categories.The ever-popular ombre or gradient tints will still grace faces, and Roberto Cavalli offers fresh interpretations of this style. Think sophisticated Britney Spears, for this look.
You'll also see plenty of very dark lenses, and these opaque luxury sunglasses are a must for those times when you want to mask what you are saying with your eyes. The other lenses style does a complete 180 degree turn by going completely clear. The clear lenses bare it all, creating a forward look.
More than tortoise or havana
Look for elegant patterns that remind you of expensive marble when you select your acetate frames. A pair of sunglasses like the Max Mara MM Reddish Sunglasses 0PTP in pattern pink give you opulent swirls that rival anything you can find in nature.
Use these celebrity sunglasses trends to round out your wardrobe in 2017. There's a lot of fun and fashion to be a part of, and these newest sunglasses will take you there.