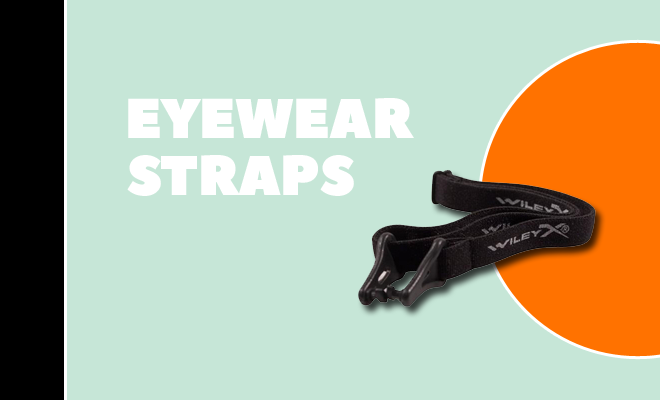 Trends
Certified Wiley X Eyeglasses Straps That Will Blow Your Mind
By
|
Okay, so you made a smart move and invested in Wiley X eyewear.
There's no better choice for your eye protection. Read the review about Wiley X eyewear, and you'll see that riding the open highway, kicking up dirt in a motocross, or spending the weekend hunting with your buddies are those times that merit Wiley X eyewear.
And you're going to want to hang on to those Wiley X eyeglasses or sunglasses, too. The last thing you want is to have your glasses blow off your face at 60 or more miles an hour or as you are running through brush.
The solution is to have eyewear straps that will take care of your eyeglasses and sunglasses and well as they protect your eyes.
You have to have eyewear straps that will perform as well as your Wiley X eyewear. Does that mean you have to choose some flimsy eye cord from a designer that's never even ridden a hog or spent a chilly morning holed up in a deer blind?
No. You're going to want to wear Wiley X eyeglasses straps because these straps are guaranteed to fit your original Wiley Xs. They've been designed to work well with your eyewear.
The first thing you'll notice about the Wiley X eyeglasses straps is that these are significant eyewear cords. They are wider than most other straps on the market, and they are tough, too. They are meant to be as hardworking as you and your Wileys.
For example, the Wiley X WX Strap Miscellaneous T-peg Strap XLE is a formidable accessory that holds your Wiley X prescription eyewear or sunglasses for you. Adjust the strap wear you want it for the best comfort and fit, and to keep your eyewear in place.
The Wiley X eyeglasses straps come in black, and most of them bear the highly recognizable Wiley X logo woven into the nylon; you can also select all black straps if you prefer a more tactical look.
You might not always want to wear the strap with your glasses, but if your glasses might fall off while you're at work or at play, you can't risk the possibility of debris and other foreign matter injuring your eyes.
Complete the look of your Wiley X optical eyewear and sunglasses with the strap that goes with them. Go all Wiley X by pairing your Wiley X eyewear with Wiley X eyeglasses straps.