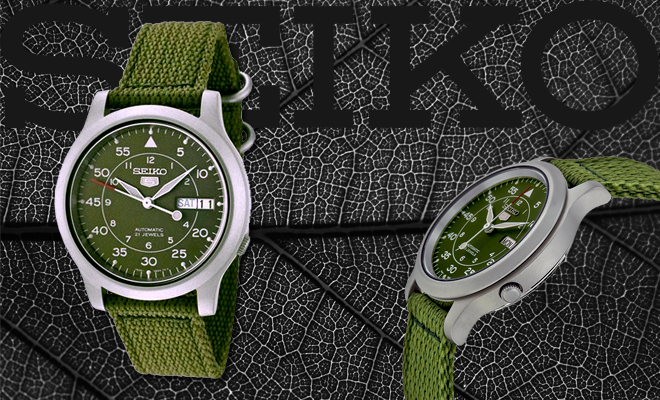 Trends
The Seiko Nylon Strap Watch to Wear Every Day
By
|
Today's wristwatches have functions that can go far beyond telling time, but some people prefer a simple watch that does simple things.
Simple things, like tell time. And maybe the date.
That's exactly what you get with the Seiko 5 SNK805 Automatic Watch — a timepiece that tells the hour, minutes and seconds, and well as the day of the week and the date. Simple and classic. There's no better way to describe this Seiko nylon strap watch.
Let's begin by looking at the watch itself. The face is a forest green, and the numbers and markings on the face are white to give you an easy to read format. Each hand is luminescent, and as it sweeps around the dial, you'll notice the the seconds numbers, in intervals of five lie around the farthermost circumference of the nylon strap watch dial.
The next ring of numbers is for the hours, and each hours is shown in Arabic numeral format, which is preferred for its simplicity in telling time. To the right of the dial, in the three o'clock position, lies the window that tells you the day of the week and the date. The watch case is a burnished silver color, like soft, aged nickel.
The Seiko nylon strap of this watch is a soft, thick weave of material engineered to withstand rigorous activity. The strap is well sewn at each end that attaches to the watch face, and the strap closes with a simple nickel colored buckle closure. The nylon watch strap matches the watch face, creating a look that may remind you of military watches of the past.
The military green color is neutral enough to wear with virtually anything, and it begs to be part of your leisure wear.
The great thing about a Seiko nylon watch strap is that not only will this strap wear well, it will also feel comfortable while you have it on your wrist.. The woven fabric allows the skin on your wrist to breathe, which is something metal and leather don't do. Non-nylon materials tend to accumulate sweat and dirt under them.
This watch will be as comfortable as wearing your paracord bracelet.
If you get your Seiko nylon strap watch dirty, you can wash the strap with a little gentle soap and then let it dry. You'll be good to go the next day. This nylon strap watch is, of course, water resistant, but you'll want to take it off excessive immersion in water.
Seiko patterned this wristwatch after simple military style watches. Sometimes simple is best, but that doesn't mean it's less.