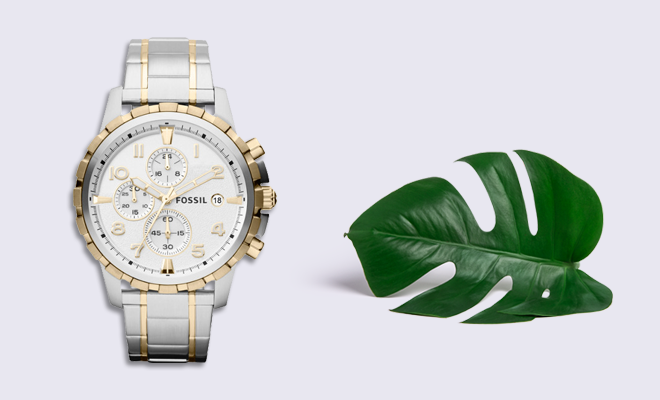 Trends
Stainless Steel Strap Fossil Watches Dress It Up
By
|
There's probably nothing better than a rugged watch with a leather band or tough nylon weave strap. Bands and straps like these go with leisure wear like those jeans and thick wool shirt you wear on the weekends or after hours.
Leather and nylon are casual accents that wear well anytime you are outside.
Sometimes, though, you have to have a timepiece that's a little more formal. You need something you can wear with a business suit or formal wear. After all, you're not going to wear a worn watch strap with a tuxedo are you?
Stainless steel strap fossil watches are the dress watches you can wear with your suits and other professional attire.
They are stylish and smart-looking, giving the wearer an urban, contemporary accent piece of which to be proud, and these stainless steel strap Fossil watches are just as rugged as their more casual counterparts.
The Fossil Dean FS4795 Watch with Stainless Steel Strap is that rugged yet professional-looking wristwatch that dresses up any professional attire. The stainless steel link strap bears gold accents that complement the gold bezel around the round watch face. The numbers on the watch face and the hour and minute hands are also in a gold metal to coordinate the overall design.
The combined stainless and the gold go with other jewelry you might be wearing, like a wedding band or necklace.
This particular watch comes from the chronograph series of watches, and it gives you not only three smaller windows that allow you to time your presentation or a speech you have to give, there's also a window for the date. You have all the time told you need right at your wrist.
Ladies may appreciate the Fossil Decker – Ladies ES2681 Watch with Stainless Steel Strap. This watch, too, has a contemporary stainless steel strap that is polished and right for more formal attire and events. Although there are no gold accents on the watch, the bezel is studded with sparkling crystals that catch the light and draw admiration.
Having more than one watch is smart. You need an everyday watch, but you should also have a second one for those times when you have to dress professionally.
A stainless steel strap Fossil watch is the right accessory whether you check the time in a business meeting or raise your hand in a toast at your best friend's wedding.