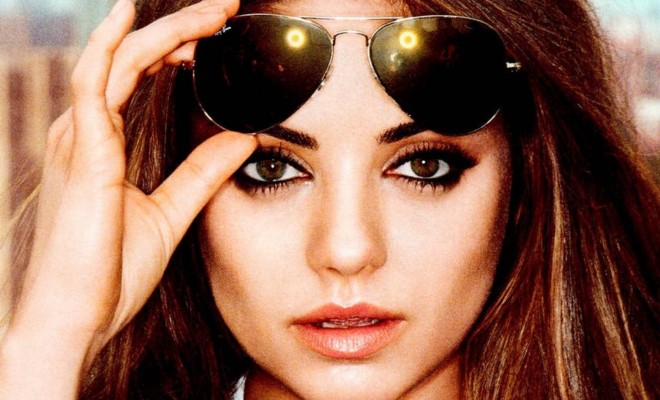 People
The Classic Luxury Aviator Sunglasses of Mila Kunis
By
|
The Classic Luxury Aviator Sunglasses of Mila Kunis
Take a look at what celebrity stars wear over time, and you'll see how they develop their unique style – the go-to look that defines who they are, especially in the area of accessorizing.
Many celebrities find themselves falling back on traditional favorites like the classic luxury aviator sunglasses that have been popular for nearly a century. These stand-bys in sunglasses look great on almost shape of face, making them an easy pair of summer sunnies for any activity you participate in.
Once you discover how well they work for you, pilot style sunglasses are a welcome accessory any time of the year. They tend to fit a casual, on the go lifestyle that says you rarely sit still.
Are these sunglasses part of your style?
The way you define your own classic style is by finding what work bests for you over time, and that's what Mila has done. While she does occasionally wear shield style and rectangle frames, you will see her time after time in aviators like the Bobbi Brown Natalie sunglasses.
The Ray Ban RB 3025 Aviator Large Metal Sunglasses 001/15 in gold will give you same adventurous style as Mila, always on the go, always ready for the next new adventure life has waiting. These pilot styled frames have Cristal Polar Pink lenses that will soften your facial features coordinates with this season's top colors.
Try on several frame styles, including rectangle, round and square, but also try on classic luxury aviator sunglasses. The traditional teardrop shape will provide you with excellent eye area coverage, which is perfect for those days when you want to go lighter on the make up or you want to make sure nothing gets blown into your eyes.
For smaller faces, try square style classic luxury aviator sunglasses. These frames have the same wire rims and double bridges as their more traditional cousins, but there are updated versions available, too. You can find aviator frames in both metal and plastic frames, and you have numerous choices in lens coatings, colors and tints.
Really, finding the right classic luxury aviator sunglasses is about finding the frames that best suits you, and then picking out variations to complement your wardrobe and lifestyle activities.
Opt for gray-green lenses in wire rims for overcast days, but go for a more playful plastic or acetate frame in a bright color on those luxuriant sunny days that beckon you to play in the water.
If you too have a heart-shaped face like Mila Kunis, you may find that the classsic luxury aviator style to be your go-to look, too.