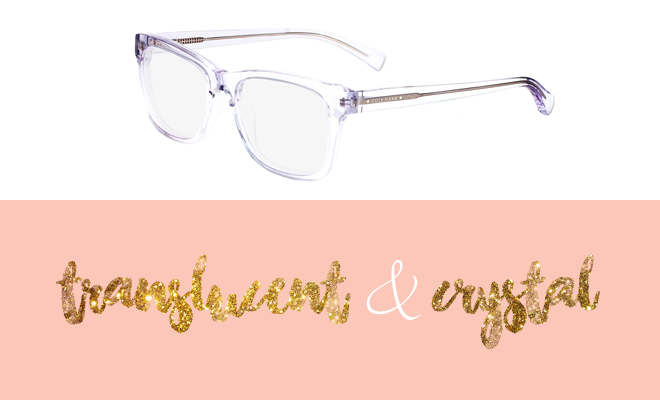 Posts
Clear White Prescription Eyeglasses Frames to Wear Now
By
|
Although matte black of havana print eyewear frames have long been favorites among eyeglasses and sunglasses wearers, you have plenty of other intriguing options for your eyewear wardrobe, including crystal clear white, which is also known as translucent.
Sure, it's well after Labor Day, but who says you can't wear white after the first week in September. Okay, maybe your great grandmother says that, but plenty of people have discovered that clear white prescription eyeglasses frames make an assertive statement. They are attractive and bold.
Fantastic frames begin with great design, and that's one thing that all white prescription eyeglasses have in common. Designers recognize that you want a statement piece with which you can accessorize, and you'll discover that there are plenty of options from which to choose. The optical eyewear frames can be simple or elaborate, and they come in a variety of shapes.
For an outstanding pair of clear white frames that rock the chic geek look, try the Cole Haan CH4008 Eyeglasses 971 in crystal clear acetate. These square frames add intrigue to the face and are beset on either side with gold wire temporal arms encased in the crystal acetate.
The fresh designer Yves St. Laurent also offers luxurious crystal clear white prescription eyeglasses frames for those who prefer daring styles, but don't stop there with this one designer. Michael Kors and Vogue have also created stunning frames in translucent acetate, and more houses of fashion are following suit.
To pull off the translucent or clear white prescription eyeglasses frame look, select the largest frames you can find for your face. The larger the frame, the more open it make your eyes seem. These frames will add light to your face, so heavy makeup is not recommended.
The frame style you select should complement your face, so be aware that although square frames look awesome on nearly everyone, not everyone can pull off the round frames look. That's okay though, because you've got tons of available choices for your optical eyewear needs.
Create a balance between your clear white prescription eyeglasses frames and your wardrobe. If you tend to wear very dark colors or intense jewel tones, these frames may not be your best choice. On the other hand, if you prefer light colored khakis and pastels, these clear white prescription eyeglasses frames can be the perfect choice to make you trendy and on point with your fashion choices.
With all apologies to your Great Nana, order a pair of clear white prescription eyeglasses and enjoy the attention you'll get — even though it's well after Labor Day.