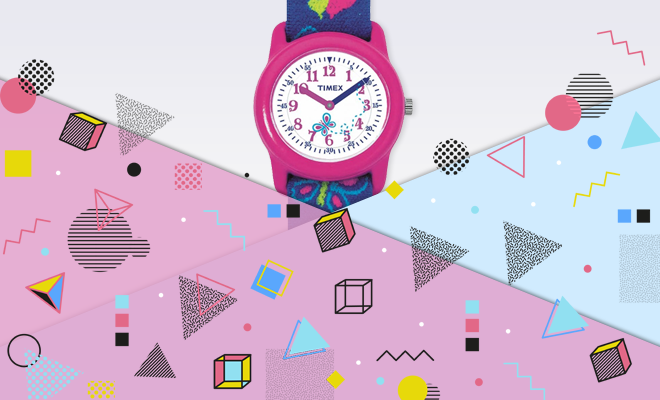 Posts
Teaching Time with Timex Kids Analog Watches
By
|
Learning how to tell time accurately is a critical skill kids must learn because so many things happen at a certain time. Everything from riding the school bus to watching a favorite show revolves around time, and knowing the time is even more important as kids get older.
Unfortunately, today's world of digital numbers gives kids little opportunity to practice their skills in telling time using analog clocks and watches.
Many children now are so accustomed to digital clocks and digital time-telling that they are largely unfamiliar with the analog clocks and watches you might have learned to tell time with. You can give your children a real chronological edge by teaching time using Timex kids analog watches, and your children will love how fun these watches are.
The Timex kids analog watches combine all the things you and your child love. Your child gets bright colors, fun designs and an easy to read analog face. You get a watch that is both durable and affordable. It's a Timex kids analog watch, after all.
Try the Timex T89001XY Kids Analog Butterfly Watch. This unisex watch has a bright pink resin bezel and case, white face and large, easy to read pink Arabic numbers for each hour, and small blue numbers in five second increments to help children learn to tell how many minutes have passed after the hour.
It's the incremental Arabic numbers feature on the watch face that makes it easy to teach your children how to tell time, and it's easy for kids to learn, too. Begin by pointing out that the pink hours hand corresponds to the pink numbers, and the blue minutes hand indicates the minutes after the hour.
Kids want to learn how to tell time with these watches. They'll be proud to wear them everywhere, too.
The comfortable blue cloth strap features butterflies and hearts in contrasting colors of pink, turquoise, and green, and it fastens with a white buckle. Because Timex knows that kids don't always remember to remove their watches before swim time or baths, this wristwatch is water resistant to thirty meters, and you'll like how well it holds up during heavy use.
Timex kids analog watches make a fantastic first watch before your child progresses to the Timex easy reader watches and the more technical Timex expedition watches. Think of it as a "training" watch for all others.
What's even more important than the gift of a Timex kids analog watch is the gift of learning how to tell time the old-fashioned way – with an analog wristwatch all your own.