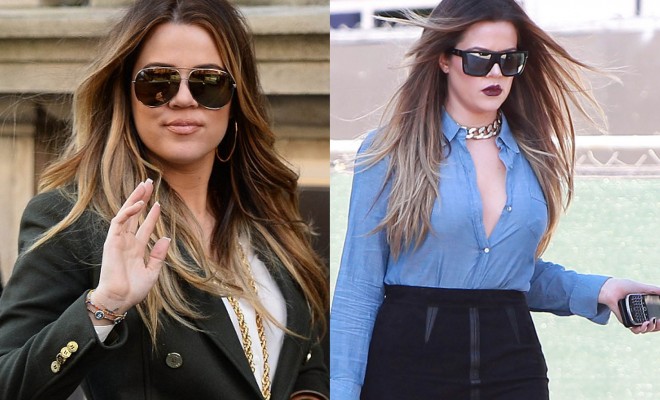 People
Designer Sunglasses Style That Khloe Kardashian Favors
By
|
Designer Sunglasses Style That Khloe Kardashian Favors
Socialites like Khloe Kardashian know how important it is to look good all the time.
Wearing a great pair of designer sunglasses can accessorize what you are wearing, and they can hide make-up that can get a little smeared from prolonged hours of traveling — all the more reason to wear fab frames that flatter.
Well-known as a TV celebrity with shows like Kocktails with Khloe and Revenge Body with Khloe Kardashian, Khloe Kardashian herself is no stranger to diversifying her style choices of accessories with an array of designer sunglasses that look good on her. Her face shape lends itself well to the aviator, square, shield and oversized butterfly sunglasses frames, and you'll see that she regularly interchanges these styles among her outfits, whether comfortable and casual or dressy and sophisticated.
Khloe has also been seen in a variety of locations in classic style Aviator frames, and the darker these frames are, the better. Dark lenses can give you protection from the sun's glare, but they also afford you more paparazzi protection as well. If eyes are the window of the soul, you get to decide how much to reveal with darker lenses.
You can create a look similar to that which Khloe Kardashian wears with these Aviators from Ray Ban, the luxury eyewear company who was the original designer of the pilot-style frames so popular these days among Kardashians and other celebrities as well. The classic teardrop shape looks great on virtually every face, and the expansive frames provide complete eye protection from the glare of the sun or camera flashes.
Of course, Khloe also looks great in square designer sunglasses, like those by Salvatore Ferragamo. The square frames offset longer faces by creating an effect of juxtaposing contrasts, and the square frames still shield and protect the eye area. For a classic look that has been reprised, try the grey marble Salvatore Ferragamo SF768S Sunglasses. The acetate frames are dark, and they feature a metal double bridge across the top.
There may be no better frame shape for complete coverage than the shield designer sunglasses. Try the Smith PivlockArena Sunglasses in matte black for complete eyewear protection that is almost futuristic in style. The platinum mirror lenses will give you a street smart and slope smart look that you'll enjoying showing off to others.
For shopping fun, try flirty butterfly frames for your designer sunglasses. Opt for extra embellishment in gold; try frames with a special edging or coloring around them like the Dolce & Gabbana DG Sunglasses in black, which also feature a hint of red on the inside of the frames.
With just a little looking around, you can find the luxury fashion frames that celebs like Khloe Kardashian wear. Go ahead and get several pairs so your can interchange your accessories, too.