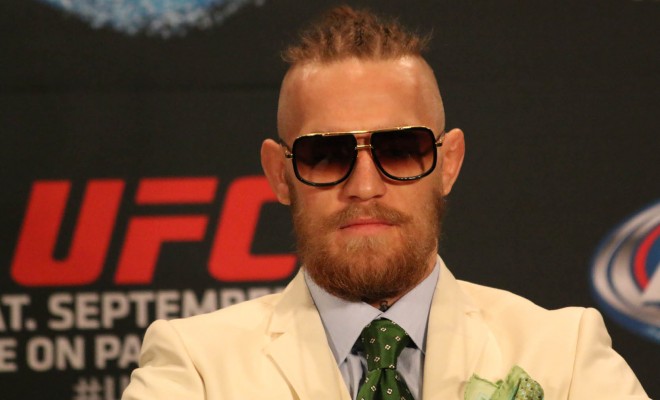 People
The Notorious Luxury Fashion Eyewear of Conor McGregor
By
|
The Notorious Luxury Fashion Eyewear of Conor McGregor
You want it, you try for it, but some people just seem to be born with it.
Notorious style, that it.
There is no other more notorious figure than Conor McGregor. With a mixed martial arts career that has taken him from an unknown pugilist to limelight celebrity, this Irish fighter is about to leave the featherweight division enter the lightweight ring at 155 pounds, a ten pound increase from his usual fighting weight.
What makes McGregor notorious is his courage and his left hand punch, and he's known in and out of the ring. He knows how to maximize most everything he puts his mind to, from his fighting career to his personal style, including his style shoes to his bowties, and McGregor courageously capitalizes on wearing the best in luxury fashion eyewear.
You don't have to be born with good taste like this; like McGregor, you can emulate it and individualize style to your own taste with just a few adjustments.
He's been known to complete his outfits with Emporio Armani luxury fashion eyewear sunglasses with a light tint on the lenses like these. The reason the style works so well? The Havana golds and browns flatter his skin tone and hair color, but there's another reason these sunglasses are so attractive. Because of the lighter tint, you can still see the expression of his eyes as he engages with those around him.
For a more serious brow line, you might find Conor McGregor in classic Clubmasters from Ray Ban. The thick acetate brow line accentuates the wire-rimmed lenses because the brow line continues into the temporal arms. Although McGregor favors a Havana color — again, the light color works well with his skin tone and hair color — you can find the same style of Ray Ban sunglasses in black with gray tinted lenses. McGregor's been known to wear these black Clubmasters, too.
McGregor also wears acetate pilot style aviators from Ray Ban, as well as many other luxury fashion eyewear sunglasses, too. He shuns wearing a single pair of sunglasses for every event just as much as he avoids wearing the same waistcoat to every gala.
The point is that he changes his eyewear frequently — almost as often as he changes his ties. In doing so, he creates a look that is fashion fresh and technologically timeless while maintaining  his notorious image.
To adopt Conor McGregor's fashion style, experiment a little. If you have always worn darker sunglass frames, try something lighter, especially lighter lenses. Do you always wear your shield style sunglasses? You might be surprised how good the Clubmaster looks on you.
Pretty soon, with a little willingness to try something new like Conor McGregor, you too will have developed your own notorious style, beginning with luxury fashion eyewear.