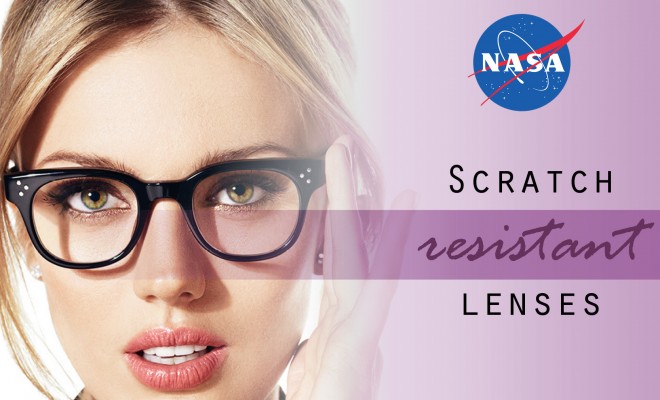 Stories
Did You Know That Your Glasses Were Conceived in Space?
By
|
Well not exactly in space, and not the entire pair of glasses, but outer space technology is responsible for the glasses you wear today.
Up until 1972, the standard lenses were either made using polished or ground glass. Imagine the injuries that resulted. This led to the United States Food and Drug Administration to issue a regulation that all prescription and sunglass lenses be made of shatter-resistant materials. Plastic was of course the obvious choice, as it was cheaper to manufacture, had great optics, was lightweight and could absorb UV rays. The only problem was, plastic gets scratched very easily.
It was a NASA scientist who came up with the plan for a scratch resistant plastic that could be used for designer eyewear. This idea came to Dr. Ted Wydeven as he worked on a spacecraft water purification system at the Ames Research Center. There was a need to alter a membrane to make the purification process work, so Dr. Wydeven used an electric discharge of an organic vapor to coat the filter with a thin film of plastic.
With this new technology discovered, NASA researchers began finding dozens of ways to put it to good use. Space helmet visors were given an abrasion resistant coating as was other important pieces of important outer space travel equipment.
Meanwhile, researchers over at Foster Grant – one of the oldest eyeglass manufacturers in the United States – were scratching their heads trying to find a solution to the newly introduced no glass in glasses rule. It took them ten years before they just gave up and asked NASA for a license to use their innovative scratch resistant coating technology.
Combined with what technology they had come up with on their own, Foster Grant was able to produce an eyeglass lens of superior quality, better even than glass lenses. With normal wear, they could last up to ten times longer than other plastic lenses. Now, almost every pair of designer sunglasses and glasses sold in the US are made of this type of plastic.
This was seen as such a high achievement for NASA, that both the Ames Research Center and the FosterGrant Corporation were inducted into the Space Technology Hall of Fame in 1989. Without the work of these two organizations, there is no telling how we would see the world today.
Now you have the ability to make your lenses even better using other types of coatings such as anti-reflective, anti-fog, and glare reducing. All of these can enhance your eyewear, allowing you to always see crystal clearly no matter what the conditions are like. Look into these special coatings and even different tints the next time you are ready to change out your lenses. With the right combination on your scratch resistant lenses, your fashion eyewear will take you to infinity… and beyond.